Tag: gay rights activist
by Ben Daniels (Admin) on Oct.05, 2012, under RuggerBugger
Ben Cohen is an accomplished rugby player and a great human being. Although straight, he has devoted a lot of his time and money fighting homophobia and bullying. Believe it or not, but he even made a donation in the form of a signed jockstrap to support a charity that addresses health issues of gay men.
He is certainly a new gay icon among straight sportsmen, even surpassing David Beckham's popularity in the similar role. Ben is proud of his gay following and thinks
Ben is married to Abbie Cohen (Blayney) and they have two children. Ben is clinically deaf and has about 30 to 33 percent of hearing loss in each ear. Thus, he has been striving to make rugby more accessible to the people with a hearing loss, and especially to help younger deaf players.
Regarding his status as a gay icon Ben said that he views his role in all this more as someone who wants to support the underdogs. "We heard these stories about people getting bullied over their sexual preference and wanting to commit suicide. I'm comfortable with my sexuality. I'm married and I've got kids. But I thought if I can help out in any way, I'm in a position where I can air my opinion and it'll get a lot of listeners. We're trying to support people who are being bullied and to get people who have been bullied to stand up against it."
I think you'll agree that he looks just about perfect, very masculine and handsome. We managed to obtain a new video of him where he is showing his entire manly, hairy body while wearing only tight fitting underwear.
Preview video:

[jwplayer config="secondplayer" file="http://www.roughstraightmen.com/wp-content/videos/ben_cohen.mp4″ image="http://www.roughstraightmen.com/wp-content/videos/ben_cohen.jpg" html5_file="http://www.roughstraightmen.com/wp-content/videos/ben_cohen.mp4″]
Click here to check out his entire video and complete set of pictures at RuggerBugger!
RuggerBugger is a site devoted to hot sportsmen. From kick-boxers, footballers, soccer players to karate martial artists, rugby players and boxers. They're all here and they're all irresistibly hot in their athletic gear. There are many exclusive nude pictures (albeit not of greatest quality). In any case, if you are into hot athletes this is definitely a site worth checking out.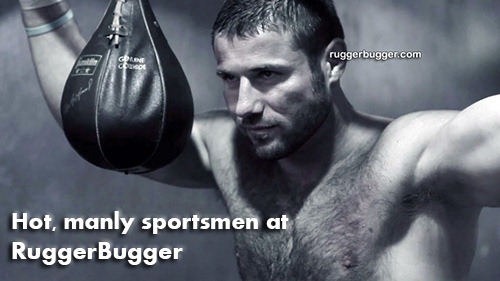 Leave a Comment
:beard, Ben Cohen, gay rights activist, hairy body, hairy chest, handsome, masculine, naked straight guys, rugby player, sportsman, Underwear
Click For More...