Tag: irish
by Ben Daniels (Admin) on Dec.09, 2016, under TheCastingRoom
Fergus is a hot straight lad who hails from Ireland! He is a confident and cheeky motherfucker and we had a lot of fun filming this introductory sex scene with him. He says he had never even thought about gay sex before, let alone participated in something like that, but his cock was totally hard today and he even proved to be extremely proficient in the technicalities of sex with another guy.
As soon as our director whipped out his large military cock, Fergus dropped down to his knees and started to suck on it. Pretty good cocksucking skills for the first time, I'd say. Fergus had a very strict and conservative upbringing, where heterosexuality was the norm and the only correct way. However, he is very fond of money and if this allows him to make some quick easy cash, he's gonna flow with it! Furthermore, we suspect that every hetero guy has some unacknowledged sexual fantasies which might include the members of his own sex and these should be explored in a controlled and friendly manner with a suitable partner, instead of expressing that energy as various frustrations, violence and so on.
Out casting director Dave (an ex-military man) orders Fergus to bend over and let him rim his asshole nice and good. Dave gives Fergus a good tongue lashing all over that hairy ass. Once he deems that hole properly prepared, he shoves his huge ass and pounds him hard and deep. When Dave was about to cum, he tells Fergus to turn around, get back on his knees, open his mouth and take that imminent spunk load that was about to be shot from his cock. Like a totally obedient boy, Fergus swallows every last drop of Dave's spunk.
Then Dave wants to feel Fergus' cock in his ass and orders him to get off and rim his ass. Fergus' cock is pulsating and twitching from desire to be buried into a nice tight hole, and soon enough he does that and fucks Dave's ass like a madman. Dave's ass was tigher than any pussy he had fucked before and Fergus was in bliss! After some time he pulls out and shoots a nice big load into Dave's open mouth. This trooper is definitely on the right track and I think we're going to see him many more times in the months to come!
Preview video:
Click here to watch his entire casting video in HD quality at The Casting Room.
The Casting Room (formerly known as First Auditions) is a great, original porn site that showcases young, cocky straight men who would like to become porn stars and make loads of cash. They think that they'll be accepted right away and be able to fuck lots of girls, but they don't know that our casting director is very strict and wants to fully inspect them during the audition. He orders them to get fully naked, show their ass, and jerk off so that we can clearly see the cumshot. Plus, we get to hear all their fetishes and what turns them on.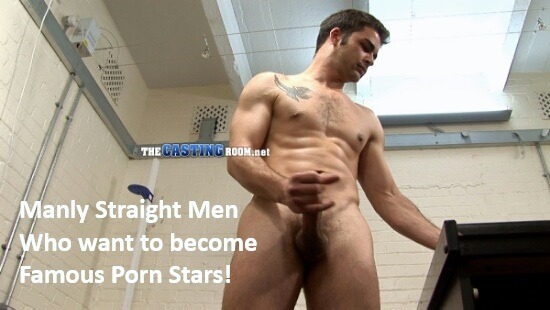 Leave a Comment
:Audition, big dick, blowjob, facial cumshot, Fergus, flip flop fucking, gay for pay, handsome, irish, rimming, straight men, straight to gay
Click For More...
by Ben Daniels (Admin) on Jun.09, 2010, under Chaosmen
I had a tough time categorizing Rusty's hair color. In person, he is very Irish looking (he is, btw.), with a tint of red in all his body hair, specifically his beard. I'm not sure if fans of the Ginger would count him as a "redhead," but he's got the look and feel that goes precisely with his name.
Rusty seems like a typical 21-year-old. Way into working out, training and chasing tail. I suspect he has an easy time charming the girls with his crystal blue eyes, as well as his ability to carry on an intelligent conversation. Despite his rough and tumble construction-worker exterior, this kid is really quite smart and well-spoken.
He grew his body hair out just for us, and I think it's a great length. Those who don't like body hair won't be distracted, and yet, he has enough going on that it shows he is all man. Fans of body hair should be satisfied. Rusty also has a big ol' spike on him. He told me he only jacks off one-handed, but it was taking two hands to work his cock up.
He's a little nervous, but he does engage the audience and has a tremendous cumshot, nearly hitting himself in the face. Tons of jizz matted in his body hair! I always try to give you guys hints if I think these dudes will be back. As of writing this, he didn't seem too keen on even getting his dick sucked…BUT, the money sounded good to him, and he is thinking about it. So I am not counting him out of the running yet.
You gotta admit, even at the young age of 21, Rusty is one hot MAN!
Short preview video:

Click here to watch Rusty's entire movie – download it to your computer in HD quality!
Chaosmen is a very interesting and high-quality amateur site that features rough-looking straight guys jacking off, and sometimes even fucking each other bareback. Check it out!
Leave a Comment
:beard, big cock, boy, cumshot, hairy chest, irish, jerking off, sperm, straight, tattoos
Click For More...