by Ben Daniels (Admin) on Mar.15, 2015, under BreederFuckers
Josh is a typical straight thug – rough looking, dangerous and uncouth. He is wearing his trackies and his head is hooded, just what you'd expect from a bad boy that he is. While he is standing in the street and smoking a cig, two pervy guys approach him and make an offer for some easy cash. Being a dirty insolent motherfucker, Josh flatly refuses everything and starts blabbering the worst kind of insults at the two guys.
It's rather obvious that this uncouth straight thug needs to be learned a lesson or two. The two pervy guys take him to their little hidden lair where they usually train insolent straight thugs like Josh. Josh is livid and keeps hurling the worst kind of insults at his captors… but then his arms are bound behind his back and the pervy men stick a big gag into his filthy mouth so that he can't spew out any more of his filthy offensive words. The two pervy guys quickly whip out their already hard cocks and start pushing them into this hot straight boy's mouth. This is the first time this uncouth straight boy has tasted and smelled another man's cock, but there will be many more opportunities to come. The pervy men make sure that their cocks are thoroughly rubbed into that sexy goatee so that the scent of cock stays on his face for days to come.
One of the first lessons that every bad straight boy needs to learn is how to properly suck a man's hard dick – and how to properly deepthroat it, if need be. Dave and his assistant make sure that Josh swallows their entire meat, balls deep. Whenever Josh tries to evade the cock, severe punishment in the form of harsh slaps on his buttocks is delivered in a matter-of-factly way.
Josh's ass has never been invaded by any cock or finger in the past and since it's so tight it really needs to be opened first. Dave shoves his entire finger up Josh's ass in order to ease up his sphincter. As soon as the sphincter gives way, Dave sticks his raw cock deep inside that straight ass and starts deflowering in not so gentle way. In the meantime, Adrian is busy with filling Josh's mouth with his sizeable cock… so now this once proud and insolent straight boy is fully stuffed at both ends!
Dave and Adrian take turns at fucking Josh's tight ass and eventually Josh's face gets spunked with warm jizz from both captors. After a little while his ass is covered with thick layer of jizz as well. Another hetero thug learns his lesson – never to say "no" to men that are stronger than himself.
Check out the newest videos with arrogant straight men being turned into obedient cocksuckers at Breeder Fuckers!
If you prefer your porn to be on the kinkier side, you should definitely check out Breeder Fuckers (formerly known as Straight Hell). Breeder Fuckers is a premium fetish site devoted to hot straight guys being tormented, humiliated and treated without mercy by big, mean & aggressive studs!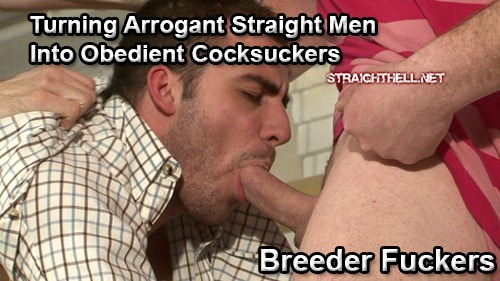 :beard, facial cumshot, forced blowjob, forced fucking, hoodie, Josh, Punished, straight men, thug, trackies, trained