Tag: whacking ass
by Ben Daniels (Admin) on Jan.20, 2013, under BreederFuckers
Shamus is a very cocky and arrogant straight dude. He's been sent by the landlord to check our premises and he's been behaving like a goddamn intruder all this morning. He thinks he has the right to stick his arrogant nose where it doesn't belong. I guess you all know what kind of punishment that kind of behavior entails!
We tied up his arms and legs so he can't move much, and we forcibly stripped him naked. He is a pretty masculine, hairy man, just gotta love that perfect chest and handsome face of his.
We forced him to breath properly, while his ass and dick were subjected to our fondling. We also flog his bubble straight ass very ferociously. This arrogant straight prick has never experienced anything like this, and the humiliation is complete.
We cover his body in pegs, which are then pulled off together all at once, causing much more pain. We also insert an anal hook in his tight virgin asshole, to teach him some respect towards the men more masculine than himself.
Finally we spank his ass hard until it's glowing red. This little punk will not usurp our premises and our secret lair where we train arrogant straight men.
Watch always new, fresh videos of arrogant straight men being turned into obedient cocksuckers at Breeder Fuckers!
If you prefer your porn to be on the kinkier side, you should definitely check out Breeder Fuckers (formerly known as Straight Hell). Breeder Fuckers is a premium fetish site devoted to hot straight guys being tormented, humiliated and treated without mercy by big, mean & aggressive studs!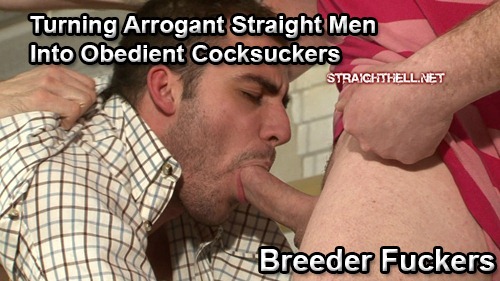 Leave a Comment
:anal hook, arrogant, BDSM, beaten, Cruel Masters, hairy, handsome, humiliation, masculine, Punished, Shamus, straight guys, suit and tie, tattoos, tied up, whacking ass
Click For More...