Benjamin is a handsome, classy All-American stud. He's got an amazing muscular body which has been sculpted by bodybuilding over the many years. Check out Benjamin's powerful arms, strong pecs and muscular legs, 8-pack abs, as well as that furry muscular butt! Of course, how could we forget to mention Ben's totally amazing 9-inch cock!
Ben was happy to pose naked for the site and show off his amazing body for the fans. He arrived wearing his Office clothes and very tight grey underwear which proved to be barely sufficient to contain his big muscular butt and huge Anaconda cock! Ben strokes his manmeat while wearing a Hawaiian Lei and works up a sweat while lifting weights. He bends over to hump over the big blue exercise ball while sporting an amazing 9-inch boner, shows off his extremely hairy manhole a few times, and then takes a long piss into a bucket outdoors "hands free" while still flexing his muscles. He goes to a secluded part of the forest, and sits on a chair where he focuses on stroking his manmeat and plays with his hairy heavy balls. Ben shoots a really thick load of hot spunk all over his hands, and the cum kept oozing down his long 9-inch shaft. Then he goes into the shower, lathers up his entire body (including his big feet) and lets the water rinse it all off.
Benjamin works as a businessman in a company that brokers sales of private jets to billionaires in Dubai and the United Arab Emirates. He contacted the owner of Islandstuds because he wanted to have a professionally made photo shoot and a video of his body for himself and his wife to enjoy! Namely, Benjamin's wife is a huge fan of Islandstuds and she insisted that Ben appear on the site. "I've got to keep her happy" he adds with a smile.
Benjamin arrived fully dressed up in his office suit, complete with Cufflinks on his dress shirt. He found some spare time during a lunch break at work, and this was before covid. Benjamin is your typical All-American Hunk, he is 31 years old, he weighs in at about 205 lbs (93 kg). He has Spanish, Italian, German and Russian blood running through his veins! It's a horny thought to imagine this muscular hunk while he's negotiating the sale of a private jet to businessmen in the Middle East. We thoroughly enjoyed Ben's antics while he mooned the camera wearing only his ultra-tight grey underwear with his dress slacks pulled down to his knees. He kept his black tipped toe dress shoes, as well. Ben was pretty talkative while he was stroking his 9-inch cock. He didn't remove all his clothes in the beginning, so there's a part of his jerkoff session in which he is partially clothed. He gives us a sexy smile in the camera and keeps rubbing and playing with his hard dick and balls.
Benjamin's entire body is a a work of art, and he's quite aware of this fact. He flexes his arms and proudly shows off his big biceps, hairy pecs and perfect abs. It was funny and hot to watch him doing the flexing while he was wearing a floral Hawaiian Lei, while his stiff cock was wildly pulsating between his muscular thighs. Ben plays a lot of football and basketball with his friends, and he also practices Yoga regularly, so that can also explain his powerful thick thighs. In order to keep himself in shape, Benjamin works out at least several days a week. For this occasion he wanted to make a full demonstration of his usual workout regime and lifted weights as he would in the gym, but with one big difference – his huge cock was now fully erect! We loved the sight of his powerful thick arms flexing and bulging while he was pumping that iron! It's also exhilarating to watch him stroke his throbbing 9-inch monster cock in such a playful manner while at the same time lifting the heavy barbell all the way up to his pecs. The camera also caught his big balls dangling between his hairy muscle butt as he was bending over and doing chest pressups.
Benjamin says that he really loved working out naked. This was actually the first time he did that, and he loved the feeling about it. "this is my first time and it feels great!", he says. When he wanted to devote the due attention to his amazing monster cock, Ben sat down on a large Exercise Ball and started to stroke his cock and play with his hairy ball sack. Benjamin knelt on the wooden deck, pressed his throbbing cock against the rubber ball and started to fuck it! We can get a great view of his furry ass cheeks, which open again as he humps the ball. Also, his super-tight hairy manhole is on full display while he's humping the ball – check that out, too! All lovers of mens butts will definitely love to watch the part where Benjamin's butt is caught on camera from all possible angles. Benjamin is a very open-minded guy with a perfect hairy body, huge 9-inch Anaconda cock, really big and powerful pecs, amazing biceps and extremely ripped 8-pack abs. After he's had some fun with the naked workout session, Ben sits on a chair outside, puts on some lube onto his cock, and proceeds to an extended jerking off session! Benjamin isn't particularly gentle with his cock and balls, and manhandles them as he wishes. He loves to edge his cock as long as possible, keeping it at the very edge of cumming.
We really enjoyed watching this ripped professional Businessman pleasuring himself the way he usually does in the privacy of his home. Benjamin says that this was his very first appearance on any porn site, and we think that his wife is going to love it! He was pretty vocal during his jerkoff session, with lots of moaning and groaning. When he came, the photographer took a lot of cool photos of Benjamin while the cum was still oozing out of his cock and falling onto the desk between his feet. His shower scene is also a must – do NOT miss out! His huge 9-inch monster cock bounces around his hairy legs while he's lathering up his body. He pays special attention to his ass cheeks and soaps them up pretty well to remove all the cum. It was so cool to watch this hot muscular businessman with his athletic body all covered with soap bubbles, and then letting the water wash it all off himself! He also paid special attention to soaping up both his feet to clean them properly for the upcoming important meetings he would have in his office.
Don't miss out – Benjamin is a real treat, a very hot businessman with a killer athletic body and a mind-boggling 9-inch Anaconda cock! This married man's man is a treasure to be cherished!
Preview video: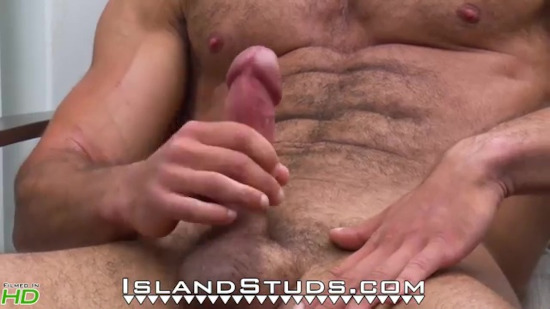 Click here to watch their entire movie in HD quality at Island Studs!
Island Studs is a great, new, and refreshing porn site that features hot guys from Hawaii. These bad boys have no problem with showing off their beautiful, toned body and hard cock. Watch them as they do their usual chores against the stunning backdrop of Hawaiian nature!