We've been in contact with Lucas Taylor for over a year now, and he's sent us a lot of his naked pics, even with his hard dick showing. I immediately knew we had to have him on our site, cause he's so hot, adorable and masculine.
When he dropped his pants during the official recording in the studio, though, his dick looked even bigger and more impressive than on any of his phone pics!
I was especially turned on by his massive, hairy legs which he can throw so seductively. This straight dude slowly but surely takes you into his world by showing you his godlike body… and in a few minutes you're lost in his chest, or beautiful pulsating dick with a shiny cockhead… or strong hairy legs… or charming face.
Make note gentlemen, Lucas Taylor! I am sure we'll be seeing a lot more of him.
Short preview video: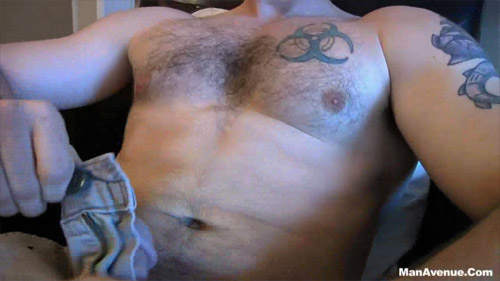 Click here to watch his whole video in HD quality at Manavenue!
Manavenue is a great porn website that features masculine, cocky, muscled, powerful straight men, the type of guys that grab your attention while you're secretly ogling them in the street or in a supermarket. These tough motherfuckers are aware of their sexual appeal and want to show you everything they've got.