When I fantasize about hot guys in military uniform, the image of a guy like Mase Taylor usually pops into my mind immediately. Mase has classic good looks and I find him amazingly hot in his navy uniform. You know, those type of guys defend our country, and in their spare time fuck some hot chick's brains out. In short, an army stud.
Apart from having a body to die for (very well built and proportional) he has a fine coat of light colored fur that covers his muscled chest and six pack abs. But wait to see his beautiful, fat, uncut dick. The tricks he can do with his foreskin are very hot indeed.
However, he doesn't want to rush. First we see his bulge through the forest-like cammo pants. He takes off the pants and releases the big, raging hard-on. He strokes his shaft slowly with his manly hand and his cockhead glistens with the smeared precum that oozes from the slit.
He is now totally hard and then unexpectedly spits into his hand and mixes it with his precum so that he can jerk off easier.
Just before he goes for the last round of wanking, he gets down on all fours to give us a nice look at his ass cheeks that are covered with ginger fur.
Finaly Mase lays back on the bed and resolutely jerks his mighty weapon until it starts shooting the white ammunition from his balls into the air, which hits him over his treasure trail.
Short preview video: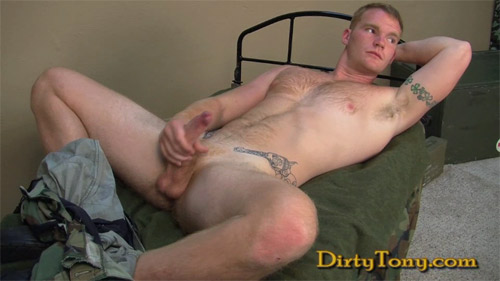 Click here to watch his entire video in perfect HD quality at Dirty Tony!

Dirty Tony is a fantastic site for lovers of aggressive hardcore fucking and hot, masculine men.