Devin Draz is a hetero (or bi) married guy who found out he could easily earn some additional money by fucking with hot men for gay porn sites. Devin is definitely a hunky guy, aggressive in nature and a good lover and fucker, as his many bottom guys have found out.
But this time the roles are reversed, and Devin is going to get pummeled by another young stallion in our stable of studs – Krys Perez. Both are domineering motherfuckers and I was eager to see who's gonna be whose bitch, so to speak.
As soon as they met, they began to exchange stories about their home states – Texas and Arizona. Soon enough the conversation shifts to sexual matters and I already get a feeling these two are going to have a fun time together. Devin acts in his typical commanding way and ends the conversation by kissing Krys.
While their tongues are intertwined with each other they begin rubbing each other until Krys decides it's time to get that big Devin's throbbing dick inside his mouth and give it a nice, wet, long blowjob. Actually Krys was such a good cocksucker that Devin started to shout out in pleasure.
Wanting to return the favour, Devin takes off his pants and gets on all fours to give Krys a good view of his pink manhole that awaits to be properly ravaged by his cock. But first, returning the favor. Devin takes Krys' hard cock inside his mouth and starts giving him a blowjob to remember. With every heartbeat Krys' cock becomes harder and harder and gets deeper inside Devin's throat.
Krys commands Devin to turn 180 degrees around and remain on all fours so that his ass remains well spread out for his imminent penetration.
He first spits onto Devin's rectum to give it some lube, and rubs his cockhead against the rim of Devin's crack. Devin knows that pain and pleasure await him, but first the pain that comes from his tight asshole being plowed by such a massive dick.
Krys pounds away this tight, hetero manhole, and does it with a gusto. It doesn't happen so often that one can drill a straight guy's hole so brutally hard. But Devin is loving it, he wasn't prepared for such a massive amount of pleasure coming from his insides. Devin thought all the happiness lies within being the top, but now he discovers the ultimate pleasures of being the bottom and taking the man's cock as deep as possible.
Krys cums onto Devin's muscular stomach, and soon enough Devin can't hold any longer and a massive amount of hot jizz erupts from his dick and ends on his stomach and chest.
Well, this was certainly one explosive fuck session. Don't miss it, both guys are hot and they certainly know how to fuck.
Short preview video: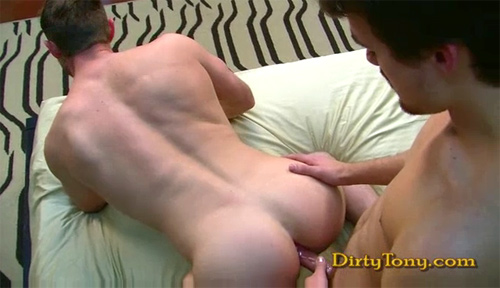 Click here to watch his entire video in perfect HD quality at Dirty Tony!

Dirty Tony is a fantastic site for lovers of aggressive hardcore fucking and hot, masculine men.