One of my favorite bisexual/straight studs in the business is Cliff Jensen. He's so masculine and cute at the same time, it just makes him totally irresistible.
In this story he got anxious and upset about his present situation. He's a student and spends a lot of money on tuition. Cliff doesn't like to sit and wait but rather always takes things into his hands. So he goes straight into the Dean's office and demands to be admitted, even though he has no appointment.
Ari Sylvio who is the active Dean is in disbelief that such a nasty student stormed his premises just like that, without even asking for admission. So Ari tells Cliff to leave his office immediately and make an appointment. However, Cliff doesn't want to do that and then notices that Ari is strangely fixated on his crotch bulge. No wonder because Cliff packs a thick 9 inch cock there and big balls full of cum.
Dean is obviously more interested in Cliff's bulge than what this feisty student has to say, and Cliff naturally notices this. Cliff runs quickly to the other side of the desk and grabs Dean by the neck and tells him in a low, loud, manly voice "LOWER MY TUITION!"
At first Dean doesn't want to hear it, he's not a man who would bend under such pressure, but Cliff is persistent and wants to get his money this or that way, doesn't matter.
So Cliff grabs the helpless Dean and starts to brutally fuck him, first with a huge dildo, then with his own very big cock. Dean screams from intense pain but soon enough the pain turns to pure bliss… Cliff is just too aggressive a fucker, and his thrusts are strong and painful, the huge dick slams into Dean's tight ass and sends shivers throughout his entire body.
Short preview video: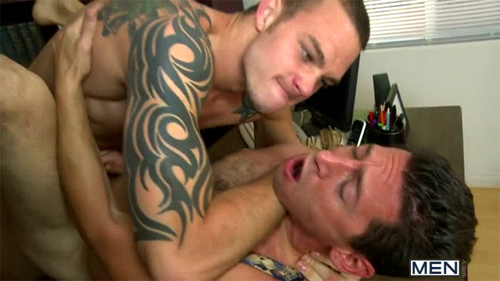 Click here to watch their entire video in perfect HD quality at Drill My Hole!

Drill My Hole is a brand new porn site from the owners of MEN.COM and it features rough men who like to fuck their bottoms hard and very aggressively. These usually straight bad ass dudes can really drill holes in a virgin man ass. Lots of high quality HD videos inside!