Orion is a perfect proof that a few simple changes can go a long way in changing a guy's look for the better. We saw him earlier while he had his "nerdy" look, and just take a look at his present look – I could hardly recognize the man!
Anyway, Orion looks perfect this way in my opinion, he's such a great stud. He let his beard grow and cut his hair much shorter than before. Now he looks like a big manly lumberjack, definitely not like a nerd. Lots of people told us in the comments and emails that they'd like to play with Orion's ass, so I included some ass play in this video as well.
At first I thought that it would be difficult to make him horny by playing with his ass, but I could tell by his moans and groans that it went fairly well. When a guy has a hard cock it means he's horny. It can't be faked, period.
Finally, I got so much into sucking his hard and big cock that I had to put his legs over my shoulders, at the same time feasting on his ass and cock, as it was hard to decide which was more inviting.
While I was eating his ass and stroking his dick with my hand, Orion shot his absolutely huge load that covered all his stomach and chest with thick juicy sperm. It was one really big load, you gotta see the squirts, they are beautiful!
Short preview video: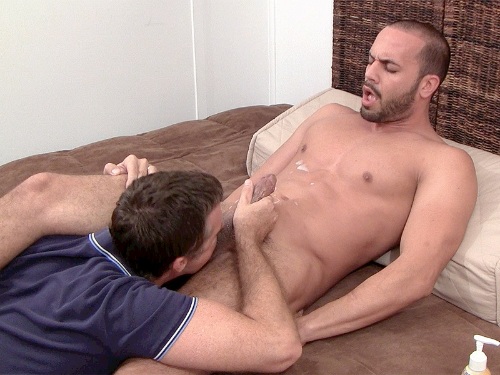 Click here to watch their entire video in perfect HD quality at Straight Fraternity!
Straight Fraternity is a great site that features hot and horny straight amateur guys. The guys here are funny, cool, and entertaining… and of course hot as hell… I'm sure you'll enjoy watching their antics! The site authors really love to show cumshots and if you're a cum lover, you will like this site.