We've finally found a new hot cop for ya! Officer "R" is as bad and dirty handsome motherfucker as they come, and I'm sure you'd love to watch him fuck the face of our resident cocksucker.
Our straight bait girl found him while he was drinking at a bar in Upper Manhattan. They got out very frequently since then but it took her weeks to persuade him to come here and be sucked off by a man. Jeez, those straight men… when will they learn? ;)
Officer "R" is a typical representative of a NYC tough stud, he is Irish and Italian by descent and works in one of the outer boroughs. The men in his family have always been policemen, both his brothers as well as his father are cops.
He is only 30 years old and was married recently but that doesn't mean he doesn't like to look at other women. Oh no, this dude has a very high sex drive. He says he even let one dude blow him on St Paddy's day when he was still recovering from something that had happened the night before!
Namely, Officer "R" was fucking around with his colleagues from work, they were drinking as usual in a bar. His buddies had left and he had a couple more beers. He was in his cop uniform. Then a drunk civilian approached him and somehow persuaded him to blow his police cock!
Officer "R" is definitely never tensed up, he is actually a very laid back dude. It seems that dudes who are still below 40 are ready to experiment more and are not so uptight.
His chest is completely covered with nice manly hair and he has a nicely muscled body – not too much but just enough to distinguish him as a real man.
Our cocksucker Trey was honored to be able to suck off such a nice specimen of a manly man, and he gave his best. Officer "R" blew a big load directly onto Trey's face, so that Trey ended up with his face completely covered with cop spunk!
I can't wait to see this motherfucker again.
Short preview video: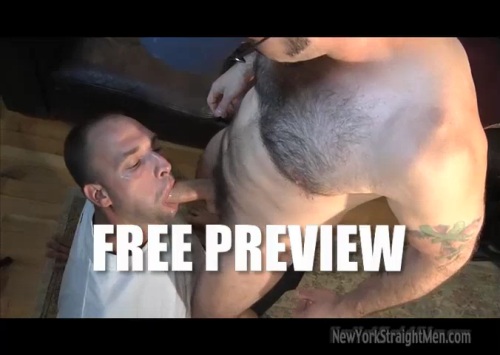 Click here to watch his entire video in perfect HD quality at New York Straight Men!
New York Straight Men is the world's biggest collection of straight men getting their blowjobs from gay dudes! These men are usually truly straight but they love getting head from a gay guy because it feels so much better than whatever their girlfriends can do. These men are not the Hollywood type cuties, they are Real Men!