Gian is still being examined and punished by his sponsors for having failed at the last championship. This well-built diver can't believe that these men don't appreciate and admire him the way his fans do.
Not only that, but these mature men don't even think that touching or jerking his cock is anything out of the ordinary. The sponsors want to see if this diver is sexually capable and potent, so they force him to jerk off to get his sperm sample. Gian knows that he has to remain silent and take it all like a man, or he might just ruin his career.
Although Gian thought he could keep his dick down, the mere fondling of his genitals brought on a raging hardon and he couldn't help it. Also those caresses on his entire body didn't help matters at all.
Preview video: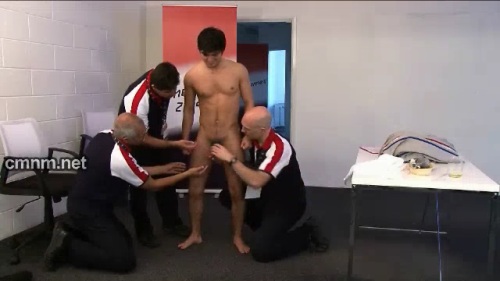 Check out these pervy sponsors, young swimmers under contract & their whole videos in HD at CMNM now!
Clothed Male / Naked Male (CMNM) is a superhot porn site where Nervous straight guys get stripped naked, groped and violated by fully clothed men.
There's nothing better than stripping straight lads completely nude, putting their bodies on display, and teaching them exactly how to submit! When they are in such a submissive position, one would be crazy not to use the opportunity and jerk them off!