Zach is a senior Airman served several times in Iraq and Afghanistan. He is a seasoned soldier and his main job in the Air Force was to pull out his weapons to deter the enemy.
While he was telling me about his stint in the Air Force, I couldn't help noticing his huge defined muscles that were quite visible even through his military uniform.
Zach is the epitome of a proud, straight, masculine man who wants to serve his country and protect its people from any harm that may come. He's a man's man, no doubt about it.
I left him in the room with a nice straight porno to watch and, just as I presumed, his military pants were quickly turned into a tent. He slowly massages his crotch area while sternly looking at the porno. His bright blue eyes are glistening and betray his lust for sex (which is not so easy to get when you're in the Air Force).
He takes off his shirt, as well as the white T-shirt to reveal perfectly ripped muscles and chest. There's also a tattoo on his left arm which looks way too cool when he strokes his cock.
Suddenly he releases his cock, which is pretty big and totally yummy. He resolutely takes his cock in his hand and starts stroking it. We can also notice some precum oozing out of his cockhead, a sure sign that he's been abstaining from jerking off at least for a few days.
He gets on his knees on the couch and spreads his ass cheeks, then inserts his middle finger so he can massage his prostate. Good to know that straight guys are starting to look into the anal pleasures, at least those which they can deliver themselves, with a finger or dildo.
Then, when he is close to the point of no return, his whole muscular body becomes strained and he shoots his jizz all over his perfect six pack. He's still grunting while several more strong squirts of cum shoot from his cockhead. Damn, that was a perfect epic cumshot. I will have to see it again.
Preview video: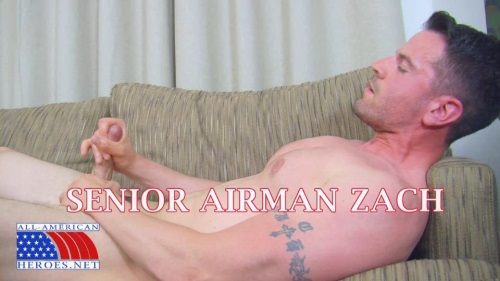 Click here to watch their entire video in HD quality at All American Heroes!
All American Heroes is a very cool military site with all kinds of uniformed men (firefighters, military men, lifeguards etc.). It's an unmatched and unavoidable destination for all lovers of hunky, hot uniformed guys who regularly blow their loads and fool around with other guys in the uniform!