Today we have one gay guy (Brent) and one straight dude (Jarek) who are going to get their asses fucked in this hot gangbang scene.
Brent is proud to be a power bottom, so for him getting a man's cock up his ass is a way of life, so to speak. It's what he likes the most as far as sex goes.
But for Jarek the fact that he's going to get his ass plowed by someone's cock (or several cocks) is not something he was really happy about. But he agreed nevertheless, you know it's a new experience and all that.
And Taylor is just happy to fuck, no matter who is on the receiving end. He has that dirty streak in his character, he may look like a nice decent boy, but deep inside he's a sexual beast who wants just to fuck as many holes as possible.
But as soon as the fucking started, you couldn't say that anyone did not enjoy the nasty fucking. All three guys were so totally into it, that I was afraid if they would cause fire and I don't have a fire extinguisher at hand.
The boys got into every imaginable position, I particularly liked when they fucked 3 in a row. Also many scenes with big, hairy and bearded Jarek are a sure way to make my cock hard and throbbing.
How about you, my dear blog visitors, did you find this scene hot? Do you like it seeing on this blog? What kind of men and porn do you like to see here the most? Please join in the discussion below, we have a new and improved comments system that enables you to post even without signing up. I would really appreciate your comments!
Preview video: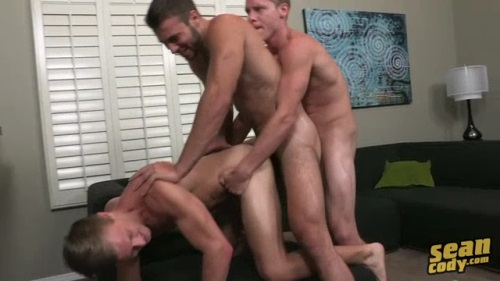 Click here to watch his entire video in perfect HD quality at Sean Cody!
Sean Cody is probably the most well-known gay porn site on the planet. They have impeccable taste in hot college men – check them out! All their guys are perfectly built, very masculine, and straight for the most part. However they will fuck a dude for some cash yay!