by Ben Daniels (Admin) on Sep.29, 2013, under BilatinMen
I'm really glad to have had the opportunity to meet Hazzard and make some videos with this hot, masculine Cuban boy. A friend of mine who was in Florida told me there was a very hot and macho-looking straight man called Hazzard.
Hazzard was born and raised in Cuba, but he is in the States now. He is quite handsome, with perfect muscular body and a big, fat uncut cock. His legs are also quite muscled, and you can tell that this bad boy has been playing lots of martial arts and other sports.
Hazzard comes across as a very confident but easy-going straight dude. He's very friendly and has no secrets. He likes to show off and isn't one bit shy about that. In the beginning I though he was somewhat nervous due to his constant hands clapping, but actually it's a habit of his that has nothing to do with nervousness.
Hazzard tells us how he lost his virginity to a 19-year-old girl when his uncle took him to his "family friends". There she was, busty and with great tits and ass, and quite ready to take up our hunky boy as an apprentice. She fucked him well and since then he's been chasing girls like a madman.
Anyway, Hazzard shows us all the goods, his great muscled chest and arms are just perfect. As I said, his legs are quite strong as well and are covered with nice manly hair. I bet he can fuck a hole well and has a lots of stamina. He's got a pretty strong, black beard which gives him a more mature and rugged look. I just love it.
Unsurprisingly, his favorite sexual fantasy is to have two hot blond girls at the same time so he can do with them whatever he wants.
Our rough boy whips out his long uncut dick and starts pumping it. He takes it slowly at first then jacks off faster until he finally shoots a nice load all over his chest and six-pack abs. After the shoot Hazzard and I smoke a bit of weed to relax. Hazzard is certainly a hot, rough macho dude and is always welcome in my house.
Preview video:
Click here to watch his entire video in HD quality at Bilatinmen!
As the name itself implies, Bilatinmen is a collection of hot, masculine latin men who are either straight or bisexual. There are a lot of truly sexy, masculine and rough straight guys here. Plenty of pretty hung men, too, it seems that these Latin boys are, on average, more hung than other guys!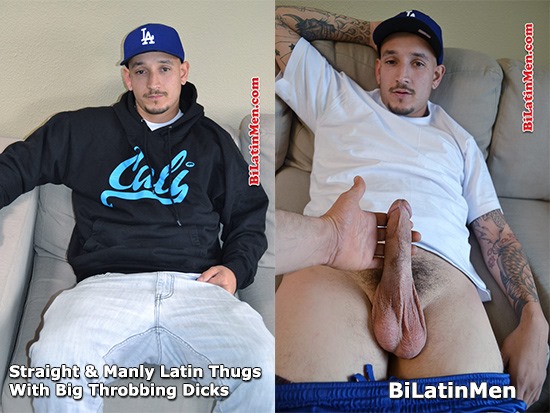 :beard, big dick, cumshot, hairy legs, Hazzard, jerking off, Latin men, masculine, muscled, rough look, straight men, uncut cock