by Ben Daniels (Admin) on Dec.28, 2013, under Chaosmen
Mark Stevens has recently become a dad again, and since he's going to have one more kid to take care of, he wanted to earn some quick cash. Mark is straight in real life, but when you pair him with a hot guy, it seems he flips some kind of switch in his brain and can get into the role as if he were gay. Mark admits that he's fond of cocksucking and he doesn't mind getting his ass plowed by hung dudes either. It's one of those weird things about some straight guys – they would rather get their ass fucked by other guys than stick their cock into another guy's ass. Some of them explain this by the fact that while bottoming they are passive and don't actually have to engage and enjoy the fucking, but Mark Stevens is different. I think he's just a regular straight dude who likes to enjoy some man on man action from time to time, and when he does that he prefers to bottom. Fair enough.
Troi was one of the first choices I had on my mind for Mark, but since Troi's dick is everything but average I anticipated there could be issues with this choice. I tried to console Mark by explaining to him that Troi's cock is more long than thick, and as long as he could take care not to impale himself all the way to Troi's balls everything should be OK. I mean, when you have a long but not too thick cock it can be manageable, but if you have a thick monster your ass is going to be split in two pieces, and there's virtually no way to avoid it.
As soon as the guys met each other, it was rather obvious that there was great chemistry between them. Troi can be quite domineering and one of the characteristic male things that he likes to do is to just lie on the bed relaxed and let his partner service him as best as he/she can. Mark realized this quite quickly and strived to service Troi as if Troi was a king and he his humble servant. Troi started to face-fuck Mark quite aggressively and this was great fun to watch. Mark was gagging and trying to catch breath but Troi was relentless with his cock.
I could tell that Mark wasn't quite sure he would take Troi's long dick completely painlessly, so he decided to try the safer approach as I instructed him – first to sit on it and then to try to control how much he's going to impale on it. Mark thought that if he let Troi stick his cock balls deep it would hurt like hell, but even during the first attempt Troi's cock indeed went all the way inside Mark's hole and everything went without any problems. Troi maintains his bossy disposition and Mark even calls him "Sir" from time to time, so the two guys really got into their roles well.
In the previous shoots with Mark he shot his load while being fucked, usually while impaling on the guy's dick and when it hits Mark's g-spot he would usually cum. It happened this time as well, but he listened to my advice and turned on his back, letting Troi pound him in that position with his legs up in the air. It's the best position for fucking the cum out of a guy, in my opinion.
Troi also delivered a nice cumshot right there on Mark's asshole. I am beginning to like Troi more and more, especially since his fantastic fuck scene with Jet where he let Jet cum on his cock and then fucked him over and over again. There aren't that many straight dudes who'd let that happen.
Preview video:


Click here to watch their entire jerkoff video in perfect HD quality at Chaosmen!

Chaosmen is a great porn site that features hot straight and bi men getting serviced or fucking their mates bareback for some cash. This site is exceptional and very unique because almost every single fucking is bareback and ends with a gorgeous internal cumshot or creampie.
Scroll down to read about the special Holiday Offer for Chaosmen which is not listed on their site but is available through our blog Rough Straight Men!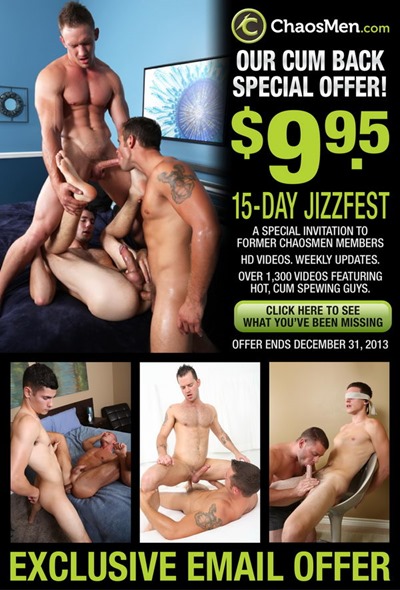 Chaosmen is running a special holiday marathon offer – 15-day jizz fest!
During this time you can get a 15-day access to the site for just $9,95 and enjoy a bunch of brand new videos in the next few weeks. Of course, you can also watch all the other videos on Chaosmen, and there are already 100s of them – all bareback and most of them with creampies.
The offer ends December 31st, so act fast!
:bareback fucking, big dick, Breeding, Mark Stevens, muscled, straight men, Troi, uncut cock