by Ben Daniels (Admin) on Nov.06, 2014, under Chaosmen
Pax is a hot straight guy who was already married and has a seven-year-old son. He is 26 (although he defo looks more mature) and one immediately notices how charming, polite and professional he is. Some years ago he had an adventure with one effeminate gay guy who sucked him off and then he fucked him. Pax says he liked the fact that the guy was effeminate to some extent. At that time Pax couldn't even imagine reciprocating the blowjob, so it was all pretty much one direction – he gets sucked off and fucks the guy as if the guy were a girl. Pax thinks that on that scale that represents how much someone is straight or gay, he would define himself as 90 percent straight. But, things have changed since then and it's time to experiment a bit more with guys…
Griffin has earned the reputation of a pretty skillful cocksucker and this was another chance for him to demonstrate his abilities. Griffin had heard this backstory about Pax and was confident that his blowjob would turn Pax on, but after some time Pax lost his erection – it appears that this predominantly straight boy likes his male cocksuckers feminine and Griffin certainly doesn't belong in that category – especially considering his strong scruffy beard! But Griffin didn't let this little setback interfere with his plans, so he grabbed Pax's cock with his hand and started to stroke his cock until it got fully hard and, gosh, it's really big and thick – check that out!
Without much fanfare or preparation Griffin swallows Pax's entire dick, balls deep – congrats! Pax used to look at some porno we left playing on the DVD but as soon as Griffin demonstrated his deepthroating abilities, Pax was hooked and got turned on more than ever before with any cocksucker, male or female.
In the previous scenes it seemed that Griffin wasn't the biggest fan of rimming, but as the time went by it seems he grew to like it more and more, and today he seemed to have genuinely enjoyed eating Pax's hairy ass. This gives Pax an idea and he starts to face-fuck Griffin, which was probably the hottest moment of this blowjob, in my opinion.
Then Griffin turns Pax over and places him on his back so he can suck him off better. In the end Griffin strokes Pax's cock until he shoots his load. Pax's load was pretty copious and it shook him to the core because his whole body was trembling and twitching from the powerful orgasm!
Preview video:


Click here to watch their entire serviced video in HD quality at Chaosmen!
Chaosmen is a great porn site that features hot straight and bi men getting serviced or fucking their mates bareback for some cash. This site is exceptional and very unique because almost every single fucking is bareback and ends with a gorgeous internal cumshot or creampie.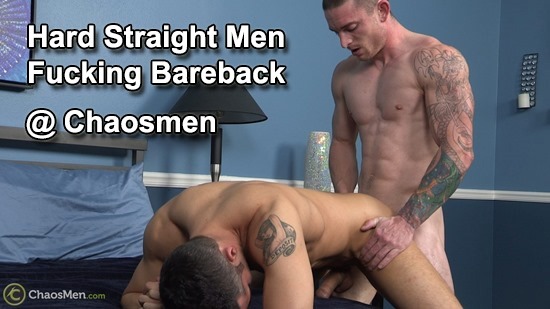 :beard, big cock, cum eating, facial cumshot, Griffin, married men, Pax, rimming, Serviced, smooth chest, tattoos, thick cock