by Ben Daniels (Admin) on Aug.23, 2015, under Chaosmen
Valentin Petrov is a hot, sexy bearded stud with gorgeous muscled body and a pretty huge cock to match. He approached us some time ago and asked if he could do a video for Chaosmen. Since he's a big guy we thought about pairing him with one of our mainstay professionals… and the unanimous decision was to go with Vander. As you will see in the video, it was a very good decision since the guys got along very well and there was some genuine chemistry going on between them.
Valentin's body is truly gorgeous, and he's already filmed various porn videos with other professionals in the porn industry, so he's certainly not a newbie. Although Chaosmen is more or less still an amateur site, these guys try to keep several pros in their stable of men, who can help in situations like this (with the newbies).
While Valentin prefers to bottom, he said he could try to fuck Vander as well. As you probably know Vander is a great bottom, and he can also be active but in that case he requires a bottom who is truly a natural born bottom. So you could say these two were like a pair made in heaven. Careful viewers won't miss the fact that the two guys kissed a lot and quite passionately at that – something that usually can't be faked.
After a round of passionate kissing, the guys went on to fuck each other – I like that, no time to waste time!
The video itself is very long and the sex is elaborate and thorough – the guys rim each other a lot and they both deepthroat each other's extremely large cocks, seemingly without much effort.
Valentin was the first to fuck Vander, which made Vander even hornier. They actually switched roles many times, and each time they seem to want to outdo themselves – like a little contest about who's going to fuck better. Valentin took Vander's monster cock without much trouble and, if I'm not mistaken, this is one of the rare times when Valentin actually cummed from getting fucked. Vander's creampie was pretty well-done: he pulled out at first and dumped his seed onto Valentin's hole, then shoved his monster again into the hole to breed it properly. Then Valentin returns the favor to Vander and breeds his hole as well.
Two manly muscular guys with big dicks and two creampies in the end. Certainly one of the best raw fuck & breeding videos this year!
Preview video:
Click here to watch their entire video in HD quality at Chaosmen!
Chaosmen is a great porn site that features hot straight and bi men getting serviced or fucking their mates bareback for some cash. This site is exceptional and very unique because almost every single fucking is bareback and ends with a gorgeous internal cumshot or creampie.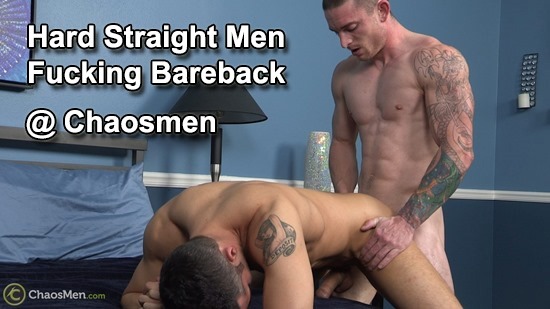 :Ass Eating, ass to mouth, bareback fucking, beard, Breeding, creampies, facial cum eating, flip flop fucking, hairy chest, huge cock, monster cock, muscled, rimming, Valentin Petrov, vander