by Ben Daniels (Admin) on May.07, 2016, under CFNM TV
Nick Groves is a CEO of a big company and his main job consists of conducting interviews for new job applicants. His specialty, however, are and always have been female secretaries! Unfortunately, all the female job applicants have been pretty unsuitable (at least in Nick's opinion): they were all (we quote his notes): "fat, ugly bitches."
Well, today a different type of prospective secretary came into Nick's office: the beautiful and voluptuous Janet Smithers. As soon as he saw her, Nick knew he had found his new secretary. He was exceedingly happy to conduct an interview with her today. Besides the usual chat, Nick is looking forward to feasting his eyes on this superhot woman all morning today.
However, as Nick will find out soon, Janet is not your usual dumb secretary. She knows how to deal with dominant men and how to take advantage of them! After having applied a knock-out substance on Nick using a handkerchief, she takes charge and orders him to take off his pants and show her his dick, which spontaneously grows hard while he was taking off his clothes. Nick is startled and surprised at the sudden turn of events. Janet is now in full control of the situation.
Janet is totally impressed with Nick's amazing, buffed up body. He is much more handsome and strong than she had imagined, and she can hardly get enough of it. She checks his body out, from head to toe and feasts on its masculine beauty. Nick's hard, bulging muscles make her weak in the knees. Nick's big, fat cock grows fully hard within seconds and she unconsciously drops to her knees to check it out from up close. Janet thought she would be in control of the situation here, but ultimately it is Nick who takes charge and shows Janet who is the real boss. The tables are turned!
Click here to watch their entire adventure in HD quality at CFNM TV!
CFNM TV is a brand new site from the creators of sites such as CFNM, Brutal Tops, Breeder Fuckers, The Casting Room and CMNM. If full-length videos of hung masculine men being dominated by beautiful horny women turns you on, you're certainly going to enjoy this site. It is actually the video site specific CFNM site that's made especially for those who prefer videos to photo stories.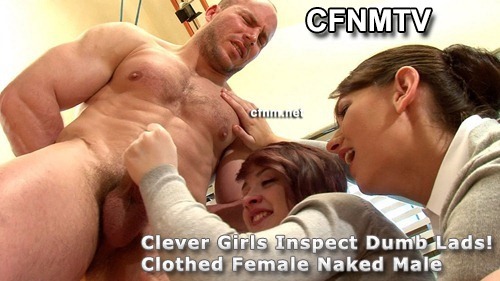 :arrogant boss, beefy, big biceps, big boobs, big dick, Janet Smithers, job interview, muscular, Nick Groves, office suit, sexy secretary, spontaneous erection, suit and tie, tattoos, women take advantage of men