by Ben Daniels (Admin) on Dec.08, 2016, under MissionaryBoys
Elder Dobrovnik knows discipline. His Russian parents were strict and authoritative about everything. They didn't even specifically try to restrict sexual things for him in his puberty because they knew he wouldn't even try to oppose them. They made it abundantly clear that sex was evil and shouldn't be indulged in any form. For them, sex was just for procreation.
Having been brought up in an environment with strict and religious parents he was destined to join the church… as he did, two years ago. Then he became a missionary and has since become one of the mission president's Assistants to the President. Elder Dobrovnik likes his current position, he loves the fact that the two APs have to meet with the mission president every day. A couple weeks ago the mission president told the boy that he considered him to be an outstanding missionary, and feeling Dobrovnik's strong muscular shoulders, added, "There is a man I would like you to meet. He is one of our area authorities. I have received a recommendation that you should receive a special calling, but before I tell you more you must agree to never disclose the secrets of the temple. Bow your head and say yes."
The boy was startled, and he felt something like a lightning bolt going through his entire body, and focusing around his crotch area. Dobrovnik bowed his head and said, "yes."
The president also made a passing remark about some other secret ceremonies and ordinances that are largely unknown to the public, and which remain confined to the elect few. "There are secrets in the temple that we do not make public. Before you go there are two things you should know." Then the president mentioned something about "the Second Anointing" and gave Dobrovnik some packet which contained the instructions he was supposed to read. The boy did as he was told and read the packet several times before he went to bed.
Tomorrow morning he started his day as usual, doing pushups and situps, and he really strained himself until his chest muscles and arms started aching. But even with all that muscle pain he was determined that he would be totally obedient to his superiors. He put on his freshly ironed white shirt and black pants, and he felt ready for the challenge.
When he arrived at the temple, he found there a handsome middle aged man, with salt and pepper colored hair who greeted him cordially. He said his name was President Oaks and told the boy to enter his office.
While going through Elder Dobrovnik's membership file, Oaks says "Tell me, Elder, do you think I'm powerful?" While Dobrovnik didn't quite expect a question such as this, he quickly pulled himself together and said, "Yes sir."
President Oaks continued with ever more strange assertions, "If I told you where true power and authority comes from, would you be interested in attaining such power?" This confused the innocent mind of young Dobrovnik and he needed some more time to think about it. He figures it could be a test, where he must demonstrate that he has overcome sins such as greed and desire, and that he must answer "No."
But, somehow, maybe due to his strict upbringing and his authoritative parents who taught him nothing but obedience, his mouth seemed to have a mind of its own and he proceeded to say "I… yes sir."
The president smiled and said, "Today you will learn about the higher priesthood, I need to know that you can, above all, keep this confidential. And when the time comes, whatever the men you meet here at the temple say or do, you willingly submit without question or complaint."
Still shocked, Dobrovnik just nods with his head. President Oaks seems to be satisfied with the answer, though, and tells the boy to have a seat. "President, when you are ready Elder Dobrovnik is here and wishes to learn about the True Order." President Oaks tells to boy to sit down.
The president tells Dobrovnik to stand up, and then adds "I want you to undress."
Truth be told, this is not the first time he was told to take off his clothes in the temple. Before he became the missionary it was also required that the boys took their clothes off before their initiatories. But somehow, this request from the president sounded different. Being the ever obedient boy, however, Elder Dobrovnik takes off his clothes without a question, and remains only in his underwear. President Oaks touches and feels Dobrovnik's stomach, and then his hand slowly goes near Dobrovnik's crotch! The president's warm hand is now holding Dobrovnik's cock through his underwear. In a matter of seconds Dobrovnik's cock gets hard and assumes its full size.
Dobrovnik has heard about some boys in the mission messing around with each other, but his conservative upbringing made him a staunch opponent of such "dubious activities". After all, this was clearly against the rules. And he didn't think he was personally interested in sexual activities with other men. However, he thought that this was all part of the initiation… and his cock didn't share any of his misgivings and remained rock hard while in the firm grasp of president Oaks' hand!
Dobrovnik still remembers that it is obedience that got him through his life so far, and that he must submit even if his conscience has certain misgivings about this proposal. The weight of his authoritative parents' influence on his mind is still strong, and he feels he must put aside his conscience and against his better judgement submit to the fates.
Strangely enough, his cock seems to approve of this decision and he begins to like what the president is doing to it. He is told to get on all fours and climb on his desk. Nervously, Elder Dobrovnik obeys the command. President Oaks feels the boy's strong muscles on his arms and back, and then starts to play with his cock and to pull apart his ass cheeks. Then he is told to bend over the desk. Dobrovnik can't see the president now, but he hears the buckle of president's pants click open. Suddenly, he feels the head of president's cock touching his asshole. His hole twitches in excitement. "Stay where you are," Oaks tells him in a stern voice.
Little by little, President Oaks' huge cock penetrates his virginal hole and after some time he can also feel president's big balls against his ass!
Click here to watch their entire video at Mormonboyz in full HD quality.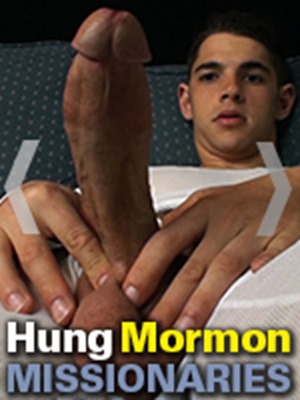 :bareback fucking, Elder Dobrovnik, hairy chest, hairy legs, huge cock, initiations, jock, mature men, mormon boys, muscled, President Oaks, stiff cock