The text description that we got from "Fratboy":
"There is this dumb newcomer who has a nasty habit of pulling pranks on full-fledged bro. That's really a dumb thing to do, especially when you consider the fact that there's not enough new pledges whose asses we could use and abuse. He sorta advertises his own ass in the presence of other horny frat guys… how dumb can you get? When the bro that he pranked told everyone what the little bitch did to him, all the bros decided to teach the little fucker a lesson he would never forget. He's got a very nice ass, pretty much perfect for various lessons in obedience and humility. We're now considering to demote him to the lesser pledge level because he can take cock in his ass so well, and we're kinda deficient in new asses lately."
Ben's commentary:
These horny nasty frat boys are still keeping the fire burning and today they fucked some newcomer real hard because he pulled a prank on an older frat guy. Plenty of dick and ass in this new episode from Fraternity X, as usual, and plenty of bareback fucking, breeding and messy cumshots, too! Again, I see a lot of new faces among the tops. Let's take a look at who participated in making of this video: Dirk, Finn, Cole, Ashton Silvers, Brandon James, Max, Shae, and Darren Blue.
Preview video: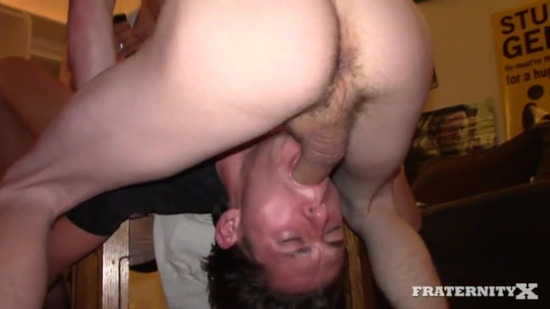 Click here to watch their entire videos in HD quality at FraternityX.
FraternityX is an amazing porn site that features a group of young, bisexual college boys who are sexually insatiable, always horny and ready to fuck a hole. They record their orgies and put them up on their website (FraternityX) and charge a small membership fee so that you can help put them through college!