Tag: Ace
by Ben Daniels (Admin) on Jan.27, 2013, under Chaosmen
Ace and Vander have been chatting over the internet for quite some time. They live on the opposite end of the country, but they got so much infatuated with each other that I knew they would fuck like little rabbits today. Actually today was the first day that these two horny hung men met. I kinda suspected that there will be lots of sparks flying between them, but I must admit I hadn't expected this kind of fire!
Actually they started to help each other out without me telling them anything in particular. Ace was more than eager to finally get that huge Vander's cock inside his mouth, and boy oh boy, did he do it properly! I always look with incredulity when I see guys swallowing Vander's huge monster cock as if it were a regular cock. I mean, how do they do it? Damn.
I follow them with the camera, hoping that they will finally notice me and realize this is being recorded. It seems they got into the love making game so deep that they kinda forgot about the real world around them.
Not much time has passed, and now Vander grabs Ace, lifts him up off the bathroom tile and basically carries him with the strength of his muscles, and fucks him hard. He nails that tight hole pushing Ace against the shower wall. I think there was a famous movie a long time ago with a similar scene (although heterosexual), and perhaps they got the idea from there, but nevertheless it's hot as hell.
For a moment I got worried that it might get slippery for them and they could crash, but luckily that didn't happen. Soon enough, they went to the bedroom.
Ace lies on the bed and exposes his ass fully for Vander. Vander inserts his cock again into Ace's hole, and from that moment it was really so hot that it makes no sense to describe it in words. You just gotta see it.
They flip-flop and change positions often, and it looked as if their cocks got ever harder after being pumped by the other guy. First Ace's cock got rock hard after Vander fucked him, then the same happened with Vander, as if his cock became even more engorged with blood from all that pounding by Ace's cock.
Ace had to warn Vander to stop from time to time because he wanted to cum. I told Vander to assume a position from which I would be able to shoot the cumshot better. Even with that, Ace began to shoot his load early so I couldn't catch him squirting his jizz quite well in the closeup shot. However, other cameras managed to catch Ace's epic cumshot!
Vander eats Ace's cum, then fucks Ace a little more. Soon enough Vander shoots his load onto Ace's hole, and shoves it inside with his cock. Vander then eats that creampie (his own cum on Ace's ass) and the two men kiss each other with Vander's cum in his mouth and on his lips.
Preview video:


Click here to watch Aries' entire video in HD quality at Chaosmen!
Chaosmen is a great porn site that features hot straight and bi men getting serviced or fucking their mates bareback for some cash. This site is exceptional and very unique because almost every single fucking is bareback and ends with gorgeous internal cumshot or creampie.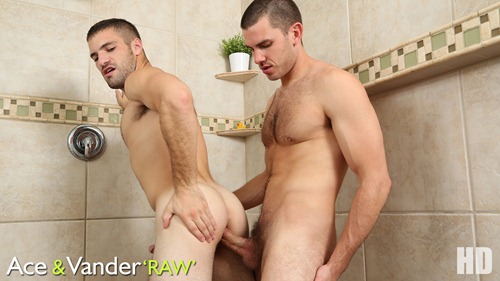 Leave a Comment
:Ace, bareback fucking, bathroom fucking, Big Arms, Big feet, creampie, cum eating, facial hair, hairy, huge cock, internal cumshot, kissing, masculine, monster cock, muscled, muscular legs, strong legs, vander
Click For More...