Peto Coast has made quite a lot of videos for Machofucker, and whenever I watch him banging those bottom boys, I can't help noticing how enthusiastic Peto is about the whole thing. For him fucking a guy is so much more than mere job, one can tell he enjoys it.
Therefore, although all his movies are excellent, a couple of them stand out in my opinion because of the sheer force and aggressiveness that is so obvious. This is one of those great moments when this dedicated top fucker virtually demolishes this bottom dude's ass and, in the end, fills it with his rather big load of cum.
The fucking itself is "dirty" (in the best sense of the word). There is no unnecessary dialogue, no contrived scenario, just hard plain fucking.
At the very beginning (not shown in this preview) Peto puts a leather necklace around the bottom boy's neck with the inscription "CUMBOY" – and that is exactly what this lucky pussyboy is going to be throughout the shoot: a depository for Peto's massive load.
But before the ass gets filled to the brim (and then overflows), Cumboy will have to withstand Peto's brutal ass-assaults and get used to the pain because Peto doesn't stop for anyone or anything once he begins to fuck!
Once again, pay attention to the massive creampie at the end and don't forget to join Machofucker to watch the entire movie in HD!
Preview video: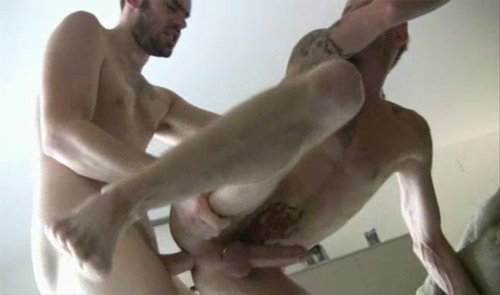 Click here to go to Machofucker and download these bareback HD movies in their entirety!
MachoFucker is a fantastic site that features only macho-masculine men with very big dicks, and extreme bareback hardcore fucking. Lots of creampies too. Machofucker tops are very aggressive fuckers and you'll be able to feel the energy and stamina coming from them.
---