Tag: Artur
by Ben Daniels (Admin) on Dec.12, 2012, under BreederFuckers
Straight dude Artur had no idea what would happen to him when he came to Breeder Fuckers. Cruel Master Dave has already trained him in several ways to become an obedient and submissive cocksucker who will unquestionably be always of service to other men that are more masculine than himself.
Artur's big, heavy dick gets manhandled and squeezed through his trackies by Dave. We already anticipate there's going to be a lot of nastier things to follow. Dave orders Artur to strip down and expose his manly body for further inspection. We can enjoy in the sight of this naked straight man while he's being tortured and manhandled by more aggressive men than himself.
Cruel Master Adrian takes Artur's dick and puts several fingers up his virgin, hairy, hetero butt. Adrian keeps a tight hold on Artur's hands and doesn't allow him to move, then suddenly sticks a large dildo up Artur's asshole. This sends shivers throughout Artur's body and he slowly becomes aware of his inability to stand up to the mistreatment incurred by his strict Masters.
The Masters think that this straight lad needs more discipline and they start fucking him hard. They even force him to play and squeeze his own nips, but when he proves to be incapable of good nip squeezing, Adrian steps in and squeezes Artur's nipples so hard that the poor straight lad can only squeal, moan and beg for mercy. The masters put his balls in a nut sack and tie them up, so that they balloon out while they're fucking him mercilessly.
The poor, pitiful bastard will remember this training session for a long time to come.
Preview video:


Watch new videos of arrogant straight men being turned into obedient cocksuckers at Breeder Fuckers!
If you prefer your porn to be on the kinkier side, you should definitely check out Breeder Fuckers (formerly known as Straight Hell). Breeder Fuckers is a premium fetish site devoted to hot straight guys being tormented, humiliated and treated without mercy by big, mean & aggressive studs!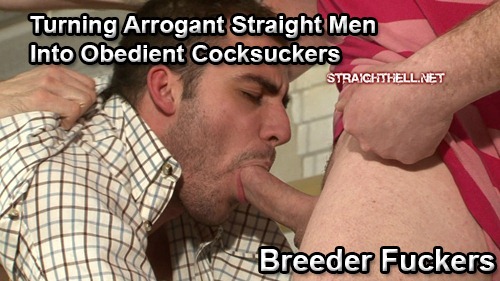 Leave a Comment
:aggressive fucking, aggressive men, Artur, balls tugging, BDSM, bottom, dildo action, domination, fit body, manhandling, Master Adrian, Master Dave, merciless, naked straight men, nipple wrenching, submission
Click For More...
by Ben Daniels (Admin) on Aug.24, 2012, under CMNM
Here in the Mancastle Chamber of Commerce we have a monthly gathering of high-powered business leaders. They gather regularly to interview prospective new members, and this time it's young Artur.
This young dude is very well-built, has quite a bit of muscles and he is an all-around hot stud. The only problem that the business leaders see about him is that he still doesn't speak English perfectly, and is a bit dim.
But who cares about that when his flat muscled stomach and that tight virgin asshole are so perfect. The business leaders are unanimous that the boy warrants more inspections and possible some additional training, after which they will decide whether to give him the job.
But judging from the anal probing results and the smell of his cock, this young dude is going to get far.
Preview video:


Find and watch horny Clothed Male/Naked Male videos in HD at CMNM now!
Clothed Male / Naked Male (CMNM) is a superhot porn site where Nervous straight guys get stripped naked, groped and violated by fully clothed men.
There's nothing better than stripping straight lads completely nude, putting their bodies on display, and teaching them exactly how to submit! When they are in such a submissive position, one would be crazy not to use the opportunity and jerk them off!

Leave a Comment
:Anal Probing, Artur, inspected, job interview, muscled, sniffing cock, suit and tie, young studs
Click For More...