As we already know from his previous appearances (check him out here), Beefcake Robert works as a construction builder, and from time to time he works in Victor's neighborhood. This has been the case in the past few weeks, and he finally decided to give Victor a call and tell him that he would be coming soon after work. When the two guys agreed upon the date and time, there was nothing else Victor could do but to wait on his knees by the door…
Robert is the epitome of a rough straight man. He likes to visit Victor from time to time, and he always gets a royal treatment from Victor. At least a good, professionally done blowjob, and sometimes more. Robert's cock is of decent size and very stiff and hard. It gets especially hard while he's receiving a blowjob! It seems that the fact that Victor was on his knees made Robert especially aggressive and verbal. A pretty intense and hard face-fucking ensued, so all lovers of that kind of thing – pay attention to that part.
When Victor asked Robert if he was going to fuck him, he smiled and said, "Somebody got lucky"… and damn, indeed, Victor got so lucky! A couple minutes later he was already riding Robert's hard dick!
And while Robert's cock is not the biggest dick you'll ever find, it's immensely pleasurable to ride that hard tool, and since Robert likes to get aggressive and extremely dominant, Victor says he couldn't think of a better top than that. Victor tried some new things with Robert, and tried to get very close to him, before moving onto his side to enable Robert to penetrate his ass in that position. That part was not planned, but it felt amazing. Robert fucked him so hard, you can tell he's such a dominant aggressive fucker!
After that Victor moved to the stool, and there Robert banged his ass for some more time, stretching it really well. After a few more thrusts, he shot his one week worth of load, one part into the condom, and the other part onto Victor's butt. He had some issues with trying to remove the condom, and Victor now thinks that he should have told him to cum inside of it while still in his ass, but nevertheless it turned out pretty hot this way as well!
Preview video: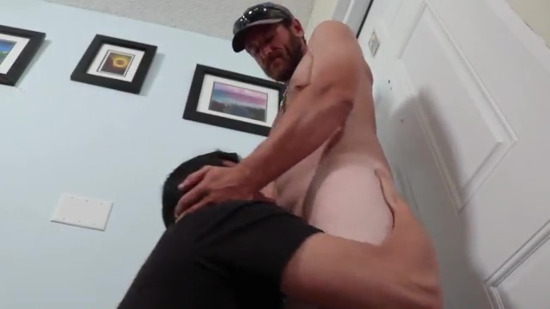 Click here to watch or download their entire video in HD quality at BeefCakeHunter.