Tag: Dustin Steele
by Ben Daniels (Admin) on Jun.20, 2014, under BaitBuddies
We've already seen handsome manly cowboy Dustin Steele in the previous update (you can see it here). Last time he had his first rodeo where he rode Cody, but this time round he would not only fuck a guy but also get his ass fucked! Yep, our cowboy liked what he experienced last time and he wants to broaden his horizons.
One of his clients is Alexei who is only 21 years old and is of Russian descent. His parents decided to move from Siberia to USA and he was born soon after they settled here. Alexei is smooth, handsome and his sexual preference is – guys. He does a lot of gymnastics and has a finely toned body. He also sports a pretty impressive 8-inch cock that looks quite imposing on him. So Dustin and Alexei are pretty much equal as far as cock size is concerned.
Dustin has always known that Alexei is gay, so I found it rather funny that the casting director asked him how he knew it. I think you'll agree that one can tell that Alexei is gay. Anyway, here's how this whole thing with Dustin and Alexei started:
Alexei came to see Dustin while Dustin was working in the stable and said that he had seen him online, on BaitBuddies. And Dustin remained speechless because he didn't know how to react to that. Alexei saw Dustin's big cock and how great was his fuck scene with Cody, and he got horny and lustful. He wanted to get a taste of that straight cowboy cock and possibly to get fucked, too. Alexei informed the casting director (Caruso) about his wish and soon enough everything was taken care of.
The boys came from Georgia to his studio and first we get to hear from Dustin himself how this whole thing transpired. Then he give the sign to Alexei to drop to his knees and suck his cock. Alexei is obviously a very talented and experienced cocksucker because he swallowed Dustin's huge cock in one try! 
Now Dustin is also eager to try to suck a guy's cock for the first time and Alexei's cock was more than adequate. Suddenly there's an unexpected turn of events. Dustin says to Alexei, "I'll fuck you first, then you can fuck me". Damn! I didn't see that coming. Obviously, Alexei can't say "no" to such an offer and the two start implementing their strategic plan.
Alexei obviously enjoyed every single second while his ass was being pounded by this masculine cowboy. Imagine having spent two long years lusting after someone, and finally your main dream – to get fucked by that someone – suddenly the dream comes true!
Then Dustin finally rides Alexei's cock, which turned out to be an amazing mixture of pain and pleasure. Dustin was totally blown away, and you'll soon see how. He later told us that the whole feeling was "it hurt so good", especially when Alexei would hit his g-spot.
As Dustin's hole was being stretched, he slowly got into the whole bottoming thing and realized that the whole pain element can easily be experienced as great pleasure, and he even said things such as, "It feels so good… don't stop… deeper, fuck my tight asshole!"
Alexei almost jizzed while his condom was still on, but managed to get rid of it at the last moment. Dustin then focuses on jerking off his own cock and soon enough he shoots his load as well.
Apparently, Dustin had one of those whole body orgasms that can happen when you're getting fucked and this earth shattering orgasm sent him to the seventh heaven for sure – he was unable even to talk and just said, "I can't even talk right now."
The guys then exchange several passionate kisses, and we then sent them to the shower to get clean.
Preview video:


Click here to watch their complete video in HD quality at Bait Buddies!
Bait Buddies is a pretty hot straight guy site with plenty of updates and some very hot guys indeed. There is always a "bait" dude who is bi or gay, and a straight (or sometimes "straight") dude who needs to be seduced into gay sex.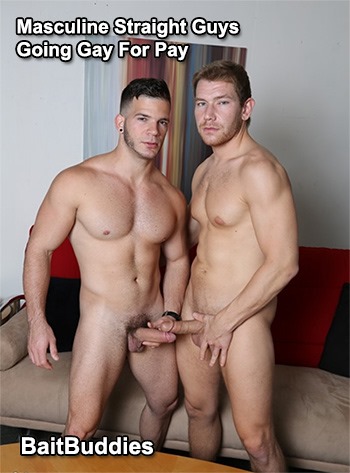 1 Comment
:Alexei Porizkov, beard, big cock, Cowboy, Dustin Steele, first time anal sex, flip flop fucking, masculine, muscled
Click For More...
by Ben Daniels (Admin) on May.25, 2014, under BaitBuddies
Every so often we are blessed with the opportunity to meet a real straight cowboy. This time round his name is Dustin Steele – and, damn, if he ain't a sexy hottie I don't know who is. He's also pretty well-built, beefy and hung. He really grew up in a farm and has been doing all the stuff that real cowboys do – riding horses, breaking them in and training them. The boy really knows his stuff.
Dustin would like to be a rodeo star this year because he's pretty skilled at bull riding, calf roping and, as he put it, "cowboy shootin'". However, we had some other, no less interesting plans for this cocky cowboy today. It's a new skill, and he may find a good use for it one day, who knows? The name of the skill is "gay 4 payin'" (as them cowboys would probably say it). Dustin is as straight as it gets, he is totally obsessed with ladies with huge boobs, big asses and he has a special penchant for Puerto Rican women. We told him he would be fucking some hot chick here today, but actually we brought our brand new bait boy called Cody.
Cody is only 23 years old, he's got beautiful, dreamy blue eyes, fit body and he's perpetually horny – especially if he knows that there is a hot straight dude around who just might take a liking to his cock-hungry tight gay ass.
We let the guys get to know each other a little, they exchange a few words and if you're careful you'll notice that Cody is immediately attracted to Dustin's rough, masculine looks and energy. I mean, when Dustin walked leisurely into the room wearing his cowboy hat and boots, and started talkin' in his typical southern way, Cody seemed as if he was struck by a lightning, and his ass must have started itching and begging to be impaled on that cowboy's big fucking rod ASAP. I was worried he would jump onto Dustin and start tearing his shirt and pants down, wanting that hot beefy straight boy all for himself. Just notice how Cody's eyes almost popped out while staring at Dustin – who, quite expectedly, didn't suspect anything unusual was about to happen until it was too late.
It's noteworthy that both boys do look awesome when naked. Although Cody has nothing to be ashamed of with his lean, well-toned body and big cock, Dustin certainly takes the cake with his very beefy, inked body and that beautiful big, fat cock that measures no less than 8 and a half inches. They jack off their cocks and they get hard almost instantly, then the casting director (Caruso) asks them to stand up and show off their erect cocks.
Then there's this usual crap about the allegedly missing girl, I just won't go into this as it's so boring and predictable, but anyway the guys are given a choice – either they can walk home without any money, or they can both profit by having sex with each other and we would give them the double amount of money.  The guys are going though some soul searching (Dustin at least), and then when Cody says that we can count on him, Dustin retorts with, "I reckon" – so typically southern cowboy-like. I think Dustin didn't even get to pronounce that "I reckon" completely, and Cody was already all over his cock. Dustin's dick quickly finds its way into Cody's hungry mouth and gets eaten completely – balls deep. Dustin can hardly believe what's happening to him, and says, "I can't believe I'm doing this!" but then soon after that he adds, "this feels pretty good." Duh, of course it does! Dudes know how to suck cock, my dear cowboy.
Then the guys stand up and start rubbing their cocks against each other's (frotting), and then there's a pretty spectacular and hot kissing session that actually looked authentic! Considering this is the first time for Dustin to kiss another guy, it was really nice and hot. Now, it was time for Dustin to return the favor and suck Cody's cock a little, and he tells to the casting director that he just can't do it. However, after some time he tries it and everything goes well. Of course, Dustin is a beginner cocksucker, and it felt somewhat awkward, but I'm sure he'll learn a trick or two along the way pretty quickly.
But then it was time for the main course of the day – ass fucking. Dustin had no mercy for Cody's little asshole and broke it in as if he was tryin' to break in a horse. Luckily, Cody is already pretty knowledgeable about receiving big cocks, and his ass is used to the feeling so Cody starts riding this cowboy's fuck stick like a pro. Cody loves the feeling of a huge fat tool up his ass and groans and moans with intense pleasure. After some time Cody just couldn't put off the inevitable and he shoots his load while Dustin is still fucking his boyhole. Dustin continues to plow his ass as if nothing has happened, and after a while he pulls out, and starts jerking off to some pussy porn that we left playing on the DVD in the background. He's just as straight as they come and has to watch women to be able to bust his nut. Soon enough, though, he shoots his load and it splatters all over Cody's chest and stomach.
This was pretty hot for the cowboy's first time. But now that he's had his first taste of boy ass, I wonder if we're going to see him again, in some future rodeo? How about the second ride?
Preview video:


Click here to watch their complete video in HD quality at Bait Buddies!
Bait Buddies is a pretty hot straight guy site with plenty of updates and some very hot guys indeed. There is always a "bait" dude who is bi or gay, and a straight (or sometimes "straight") dude who needs to be seduced into gay sex.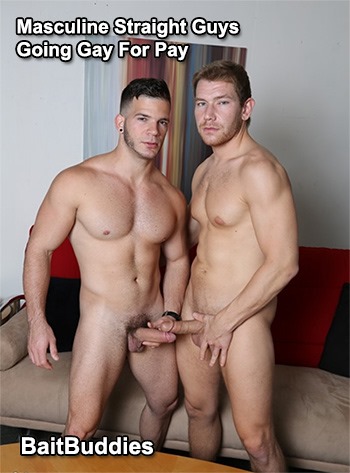 4 Comments
:beard, beefy, big dick, blowjob, Cody Avalon, Cowboy, cumshots, Dustin Steele, fat cock, fucking, gay for pay, masculine, muscled, straight men, tattoos
Click For More...