by Ben Daniels (Admin) on Jun.20, 2014, under BaitBuddies
We've already seen handsome manly cowboy Dustin Steele in the previous update (you can see it here). Last time he had his first rodeo where he rode Cody, but this time round he would not only fuck a guy but also get his ass fucked! Yep, our cowboy liked what he experienced last time and he wants to broaden his horizons.
One of his clients is Alexei who is only 21 years old and is of Russian descent. His parents decided to move from Siberia to USA and he was born soon after they settled here. Alexei is smooth, handsome and his sexual preference is – guys. He does a lot of gymnastics and has a finely toned body. He also sports a pretty impressive 8-inch cock that looks quite imposing on him. So Dustin and Alexei are pretty much equal as far as cock size is concerned.
Dustin has always known that Alexei is gay, so I found it rather funny that the casting director asked him how he knew it. I think you'll agree that one can tell that Alexei is gay. Anyway, here's how this whole thing with Dustin and Alexei started:
Alexei came to see Dustin while Dustin was working in the stable and said that he had seen him online, on BaitBuddies. And Dustin remained speechless because he didn't know how to react to that. Alexei saw Dustin's big cock and how great was his fuck scene with Cody, and he got horny and lustful. He wanted to get a taste of that straight cowboy cock and possibly to get fucked, too. Alexei informed the casting director (Caruso) about his wish and soon enough everything was taken care of.
The boys came from Georgia to his studio and first we get to hear from Dustin himself how this whole thing transpired. Then he give the sign to Alexei to drop to his knees and suck his cock. Alexei is obviously a very talented and experienced cocksucker because he swallowed Dustin's huge cock in one try! 
Now Dustin is also eager to try to suck a guy's cock for the first time and Alexei's cock was more than adequate. Suddenly there's an unexpected turn of events. Dustin says to Alexei, "I'll fuck you first, then you can fuck me". Damn! I didn't see that coming. Obviously, Alexei can't say "no" to such an offer and the two start implementing their strategic plan.
Alexei obviously enjoyed every single second while his ass was being pounded by this masculine cowboy. Imagine having spent two long years lusting after someone, and finally your main dream – to get fucked by that someone – suddenly the dream comes true!
Then Dustin finally rides Alexei's cock, which turned out to be an amazing mixture of pain and pleasure. Dustin was totally blown away, and you'll soon see how. He later told us that the whole feeling was "it hurt so good", especially when Alexei would hit his g-spot.
As Dustin's hole was being stretched, he slowly got into the whole bottoming thing and realized that the whole pain element can easily be experienced as great pleasure, and he even said things such as, "It feels so good… don't stop… deeper, fuck my tight asshole!"
Alexei almost jizzed while his condom was still on, but managed to get rid of it at the last moment. Dustin then focuses on jerking off his own cock and soon enough he shoots his load as well.
Apparently, Dustin had one of those whole body orgasms that can happen when you're getting fucked and this earth shattering orgasm sent him to the seventh heaven for sure – he was unable even to talk and just said, "I can't even talk right now."
The guys then exchange several passionate kisses, and we then sent them to the shower to get clean.
Preview video:


Click here to watch their complete video in HD quality at Bait Buddies!
Bait Buddies is a pretty hot straight guy site with plenty of updates and some very hot guys indeed. There is always a "bait" dude who is bi or gay, and a straight (or sometimes "straight") dude who needs to be seduced into gay sex.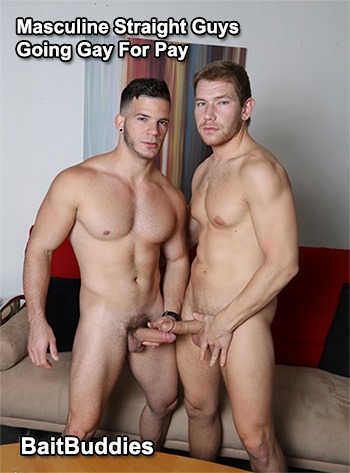 :Alexei Porizkov, beard, big cock, Cowboy, Dustin Steele, first time anal sex, flip flop fucking, masculine, muscled