by Ben Daniels (Admin) on Mar.28, 2019, under CumClub
Quinn had done some videos for Seth and Aaron previously, when he was paired with a few other different guys. Quinn definitely loves to suck and worship cock, and he's a big lover of cum as well! He had seen Seth's magnificent big rock-hard cock in action before and he wanted to suck it so badly. Of course, Seth had no problem with such a request and gladly offered Quinn his dick.
Quinn removes Seth's pants, gets on his knees and positions himself between Seth's legs, and then gets down to business ASAP. Seth was definitely into this whole thing as well, his cock got rock-hard in no time. Seth was actually so horny that the precum immediately starts oozing out of his cockhead (Seth is well-known for his ability to make lots of precum, as well as cum). And Quinn was all too eager to scoop up all that precious precum and taste it. The precum only made Quinn even more eager to swallow Seth's load.
Quinn takes his time and slowly services Seth's raging hardon, edging him so that the load would be big and satisfying. And it was – the first Seth's squirt flew high up in the air and fell right onto Seth's cock again. Seth's entire dick and balls got totally drenched in cum. And after the first squirt there were second, third and so on… lots and lots of warm jizz! Quinn swallows Seth's cum-drenched cock with his mouth. He sucks it some more and licks up all the remaining cum. Seth feels totally drained and Quinn has a satisfied smile on his face knowing that Seth's cumload is now in his stomach!
Preview video:
Click here to watch or download their entire video in HD quality from CumClub!
Cumclub is a brand new site from the same guys who used to make sites such as Suckoffguys and Barebackplace. Now they are back with brand new site Cumclub and they will continue to showcase their blowjob and cum-related adventures as they travel all around the country.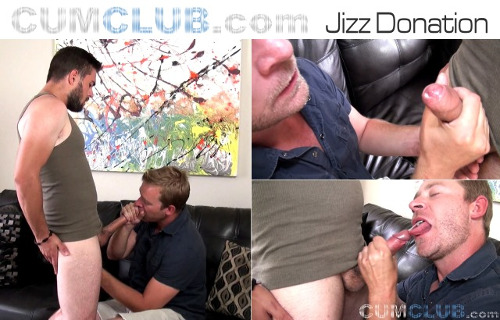 :beard, big cumshot, blowjob, cum eating, explosive cumshot, Quinn Blackwood, rock-hard cock, Serviced, Seth Chase, sucking off