Tag: exhibitionist
by Ben Daniels (Admin) on Apr.17, 2016, under Chaosmen
Adam Cub is a very hot, ripped straight guy. He really looks like an Adonis while he's showing off all the goods he's got! As you may have already guessed, Adam is not shy about showing his body in front of the camera. In fact, he likes the attention and definitely gets the kick out the notion that people will be getting horny while looking his pics and videos. He appeared on several sites already doing some guy on guy work and finally decided he should go pro with Chaosmen.
There's really no flaw on this young gentleman. His body is pretty much perfect and his whole attitude is great and very positive. Adam is truly a straight guy and in his private life he has sex with women only, but I can't help noticing that he's also pretty open-minded and likes to experiment a lot. He told us he's now ready to broaden his horizons and possibly to work with other guys as well.
Adam has a great chest – check that out. His pectorals are super strong and hard, and those quads are impressive as well. Adam's cock is a work of art – straight and stiff and pretty big and thick, too. It looks great and impressive when it gets fully hard.
Adam agreed to do a blowjob video with one of the guys which we'll be posting shortly. We hope to see much more of this naughty straight boy in the months and years to cum!
Preview video:
Click here to watch his entire video in HD quality at Chaosmen!
Chaosmen is a great porn site that features hot straight and bi men getting serviced or fucking their mates bareback for some cash. This site is exceptional and very unique because almost every single fucking is bareback and ends with a gorgeous internal cumshot or creampie.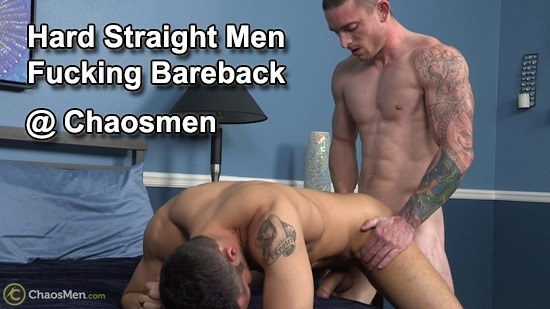 1 Comment
:cumshot, exhibitionist, handsome, huge dick, jerking off, latin guys, muscled, muscles, perfect chest, ripped, six pack abs, smile, smooth chest, stiff cock, stroking cock
Click For More...
by Ben Daniels (Admin) on Nov.24, 2010, under Chaosmen
Isaiah is a straight boy, but he has a lot of gay friends, some of which recommended that he come and do videos for porn sites. He's a hard working lad, and has several jobs, but none of them are paying enough really. So why be content with a miserable wage when you look like Isaiah? He is not shy about showing off his manly assets, so his gay friends knew he would be perfect for a site like Chaosmen.
Isaiah broke up with his girlfriend just before the shoot because she was more drama and crap in his life than he could put up with. Wise decision! So he came here very eager to perform, and I can tell ya this kid has a very bright future in the porn biz.
Isaiah is one of those guys who really cares about his audience when he performs. He couldn't imagine being dull and uninterested – he wants to engage the audience and get all those sparks flying in the air. While watching him, you will be sure he's doing all this just for you.
Back to his body. Apart from the fact he's got a wonderful jock style body with almost no fat, how can I skip talking about that magnificent cock?! It's always rock hard and doesn't feel at home while it's in his pants – it always wants to go out and play with whoever wants to play with it!
Since breaking up with his now ex-girlfriend he has been trying to stay away from girls, so maybe all that fiery sexual energy can somehow be redirected to guys  – what do ya think?
I guess we'll just have to wait and see. I love working with straight sexy boys who are so open-minded!
Short preview video:


Click here to watch and download his whole video in HD quality at Chaosmen!
Chaosmen is a great site that features very hot young straight and bisexual guys getting blown, jerking off or fucking with each other bareback (with real creampies)!
Leave a Comment
:big dick, cumshot, exhibitionist, jerking off, naughty look, Nice Fit Body, showing off, six pack abs, straight boy, Swimmers Body
Click For More...