Today we are going to take a closer look at two very masculine and ripped straight guys: Baxter Robins and Romeo Tilling.
There are not many straight bodybuilders that are very muscular and still look completely natural. Well, Baxter Robins is one of these amazingly muscular, tanned and totally natural-looking bodybuilders. Not only does he look amazing, he's also a very nice person and always willing and eager to show off his hard body.
There is no doubt that the combination of his charming, hypnotizing blue eyes, sun bleached long hair, and a perfect god-like body makes him a very good-looking straight lad!
To start off, Baxter slowly takes off his clothes piece by piece, and keeps flexing his big muscles. The camera focuses on all of his muscles, so we can see them in very precise, clear close-up shots. His muscular legs and butt are not neglected either by the camera. And wait until we get to see that big uncut cock of his! He starts off slowly, only teasing his cock with a couple of strokes, and before you know it it's fully hard!
One of the best things that you can see with studs like Baxter is when they start walking around your house with their big cock fully erect! And Baxter does that while keeping his characteristic cheeky face expression.
Then he makes himself comfortable on the sofa and proceeds to stroke his cock much faster. His legs muscles tense up and the following moment several big squirts of jizz are ejected from his swollen cockhead! He really makes a complete mess on his chest and stomach! Of course, we then follow him to the shower where he washes off all that stickiness from his body.
*****
We have already seen Romeo Tilling previously (for example, check out here). He's now back to greet us with his trademark cheeky smile and amiable, likable personality! This hot straight guy is on his Journey towards discovering more about his sexuality. After some friendly persuasion by the director, he agreed to get a happy-ending massage. It's a big step for him as he had never let another guy wank his uncut cock.
Romeo takes his workout sessions at the gym quite seriously, and he usually trains at least six times a week. This has given him quite a ripped muscular body.
The director oils up Romeo's footballer's legs and his back and shoulders. The director spreads Romeo's butt cheeks to reveal a very tempting hairy hole. Then he turns him over and starts stroking his impressive big uncut dick!
As you can probably expect, Romeo's cock is fully hard within just a few seconds. You can tell that the director really enjoyed stroking that big hard uncut tool!
The director kept teasing Romeo's hole and played with his balls while stroking his cock at the same time. Towards the end Romeo takes over and strokes his cock rather intensely until he shoots a nice big load all over himself. The trip to the shower is in order, and of course, thanks to the director's camera, we follow him there as well!
Baxter Robins
Romeo Tilling
Preview video: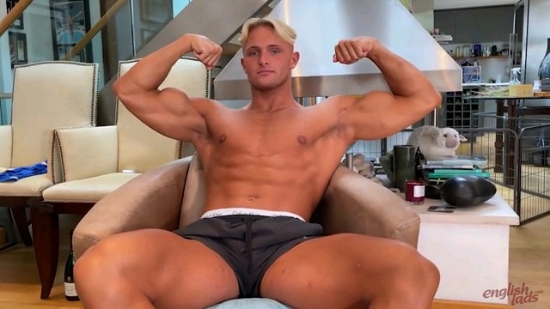 Click here to download their entire videos in perfect HD quality at EnglishLads!
English Lads is a fantastic site with loads of very manly, straight lads from England who love to show off and jerk off for the camera.  The guys that appear here are usually not found on any other site, so the content is quite exclusive. All movies are in HD quality.