by Ben Daniels (Admin) on Aug.02, 2014, under SUCKoffGUYS
Meet Tony! He's 21-years-old straight hunk who thought he had what it takes to come to our audition. Well, he was so right – as soon as we saw him we just knew that we had to have him in our video! Tony is Italian and he thinks that he could make some additional money by appearing on porn sites. He was very, very nervous when he appeared at our doorstep. He brought a gay friend of his to "check us out"… I guess he wasn't sure what exactly we were up to. We just explained that the recording would involve him getting hard, a guy blows him and the guy swallows his load. And Tony said he was cool with that, although his nervousness didn't leave him until some time later.
To break the ice we told Tony to take off his clothes so we could make some professional photos of his hot, beefy, muscular body. That must have stroked his ego in a good way and he immediately started to smile. Don't get me wrong, he was totally charming all the time, just a bit nervous, but that's nothing unusual for straight guys who come to their first porn auditions.
Tony starts fondling his cock and, sneakily Seth enters the scene, drops to his knees, and starts sucking on this young man's big, thick rod. What could a gay guy ask more? A nice, big fat schlong in your mouth and you know you can easily make him cum. After a couple of seconds Tony tells Seth that he likes rough and aggressive blowjobs, and Seth immediately acknowledges the new instructions!
Seth enters into a more aggressive cocksucking mode and sucks on that straight cock for quite some time. Tony groaned and let out various inarticulate sounds while being professionally serviced by a man for the first time in his life. Little by little, it becomes obvious that Tony is approaching the orgasm, and Seth's greediness for straight cum is at the all time high. Seth wants that cum and wants to swallow it all.
Soon enough Tony starts shooting his semen into Seth's mouth. Seth swallows it all, and greedily licks any remaining drops of straight cum. After he's collected all the stray drops of cum he puts Tony's half-soft cock again into his mouth and sucks it clean.
After this Tony could hardly talk and he just commended Seth for an outstanding blowjob, probably the best he ever had. He added that he's very happy that now when there are no girls around he knows he has a place where he is always welcome to come and empty his balls in a willing cocksucker. Tony also said that he was surprised that Seth actually swallowed all of his cum and that virtually nothing remained – no mess at all. Well, getting sucked off by a man has its perks, buddy!
Preview video:

Click here to watch their complete video in perfect HD quality at SUCKOffGUYS!
SUCKOffGUYS is a very interesting and hot amateur gay porn site that focuses on blowjobs, cum eating, cumshots, cum play and all things cum! The site owners are obviously total cum pigs and it shows. Be sure to check them out if you're into beautiful hard cocks, blowing stiff rods and sperm in all varieties.
SPECIAL PROMOTION: As of Saturday March 8th, SUCKOffGUYS will be offering one full video from their archive totally free of charge every Saturday. The promotion is called Free Scene Saturdays – so watch out for new cum swallowing videos every Saturday, and also consider joining their site to watch all of their hot stuff!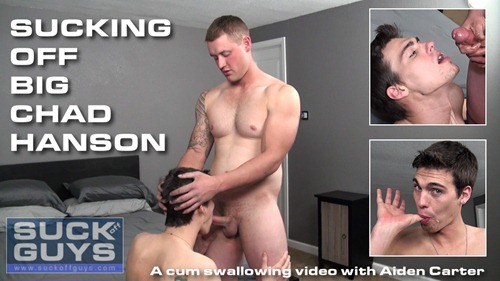 :beefy, big cock, blowjob, cum eating, goatee, handsome, italian, Serviced, Seth Chase, straight men, thick cock, tony, well-built