Tag: jock strap
by Ben Daniels (Admin) on Feb.24, 2013, under Brutal Tops
Gimpboy from London is a completely submissive young man. He likes to hook up with complete strangers, providing they are strictly tops and can teach him a lesson or two in the art of submission.
Today Gimpboy was surfing a social network devoted to young slaves and their masters, when he came across Master Shamus. He sent him a message, and to his surprise, Master Shamus replied immediately.
Master Shamus came to Gimpboy's apartment wearing black shiny boots, white wife beater and dark trousers. He also wore dark glasses and didn't make any facial expressions. In other words, he expected to be obeyed and serviced.
From the very beginning, Gimpboy understood his position and knew what he had to do. He started to lick Master Shamus' boots and then switched to his delicious ass which was covered only by a jock strap.
Shamus' dick grew instantly and Gimpboy could only open his mouth and receive that cock into his throat, being thankful all the time for the opportunity to service such an exquisitely masculine master. Shamus' cock is thick and stiff and points to the ceiling when hard, so it was a real treat for Gimpboy to suck on that rod and feel the cockhead tingling his tonsils. Not to mention the strong male scent of Master Shamus' bush around the balls which was shoved into Gimpboy's nostrils every time he swallowed Master's shaft completely.
Preview video:


Download this one and many other horny new BDSM videos at BrutalTops!
Brutal Tops is a fantastic site for lovers of the most ferocious sexually aggressive doms in the world. These dominant men love to give orders which have to be obeyed!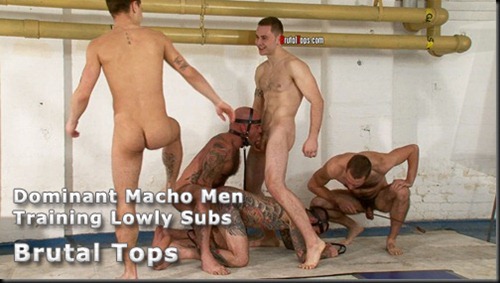 Leave a Comment
:big dick, dark sunglasses, forced blowjob, humiliation, jock strap, licking ass, licking boots, masculine, Master Shamus, polishing boots, stiff dick, submission, wife-beater shirt
Click For More...
by Ben Daniels (Admin) on Feb.27, 2012, under CMNM
Douglas is a pretty young lad who is not familiar with the rough, macho world of professional rugby. His new mates clothed in track suits constantly fondle and grope his young, innocent body and pretend that it's nothing out of the ordinary.
The chief men of the club were pretty much impressed by Douglas, but now they have one more request – a sperm sample – or they won't accept him on the team.
Douglas' brother is told to remove his own clothes so as to remain only in his jockstrap. This is because the younger brother needs to feel relaxed and gets used to seeing naked male bodies. Next, the other two men begin to stroke Douglas' cock and not long after that he shoots a nice load of sperm all over his brother's ass. Then he is told to lick it all up.
Short preview video:
Find and watch horny Clothed Male/Naked Male videos in HD at CMNM now!
Clothed Male / Naked Male (CMNM) is a superhot porn site where Nervous straight guys get stripped naked, groped and violated by fully clothed men.
There's nothing better than stripping straight lads completely nude, putting their bodies on display, and teaching them exactly how to submit! When they are in such a submissive position, one would be crazy not to use the opportunity and jerk them off!

Leave a Comment
:big cock, CNMN, handjob, jock strap, masculine, rugby player, Sperm Sample, sperm shooting, stroking cock, sweat suit, track suit
Click For More...