We continue to follow the happenings in the nearby barracks. Privates Towne and Davies come back in the barracks after having spent a wild night drinking booze and womanizing.
They are still tipsy and feel the fortitude and determination, so they had to pick somebody as a victim to direct all the rage at him. They found their army mate dozing like a rock on the bed. The sleepy hunk didn't even register what started to happen to him at first. The nasty soldiers force him to go through exercise drills. They also impersonate their pervy sergeant and his instructions.
The nasty soldiers tease their mate about his big balls full of cum, because he hasn't jerked off in a long time, trying to save all that sperm for his fiancé.
They also tease him about the strong manly smell that emanates from his gooch and ass.
Finally they force him to stand beside the bed in an awkward position with his butt fully exposed and at the mercy of these uniformed men. The soldiers pour beer into his ass and play with his penis and balls.
The poor young private has no other option but to take all the humiliations stoically and obey all the orders that the pervy soldiers give out.
Preview video: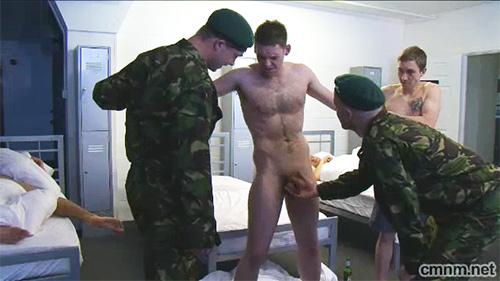 Find and watch horny Clothed Male/Naked Male videos in HD at CMNM now!
Clothed Male / Naked Male (CMNM) is a superhot porn site where Nervous straight guys get stripped naked, groped and violated by fully clothed men.
There's nothing better than stripping straight lads completely nude, putting their bodies on display, and teaching them exactly how to submit! When they are in such a submissive position, one would be crazy not to use the opportunity and jerk them off!