by Ben Daniels (Admin) on Sep.07, 2014, under CMNM
We continue the story about young recruit Paul who suddenly found himself at the mercy of two pervy soldiers who perform these physical inspections on recruits. The recruitment officers seize every opportunity when a handsome sexy recruit arrives to examine his body from top to toe. You can see some of the previous episodes here and here.
Well, it's time when the soldiers arrive to Paul's cock. Against his will, owing to soldier's hands that are unscrupulously touching his genitals, the young recruit's cock gets hard and soon enough the soldiers will be able to collect a sperm sample from him. The young recruit is fully aware of the awkwardness of the situation, but he's now confronted with the funny situation – his cock likes what is happening to him but his rational mind is against it. Well, as it turns out, sometimes it's not so bad to give in to these bodily temptations, at least we have yet another experience – all this providing no harm is done.
The pervy soldiers are happy with the extracted sperm sample of the young recruit, but this physical inspection might not be over yet.
Check out these pervy men's wanton adventures in their whole videos in HD quality at CMNM.
Clothed Male / Naked Male (CMNM) is a superhot porn site where Nervous straight guys get stripped naked, groped and violated by fully clothed men.
There's nothing better than stripping straight lads completely nude, putting their bodies on display, and teaching them exactly how to submit! When they are in such a submissive position, one would be crazy not to use the opportunity and jerk them off!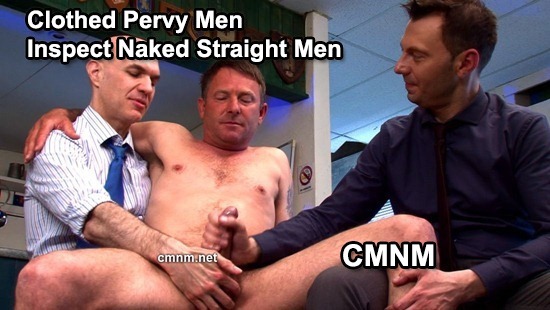 :camouflage uniform, fit body, military uniform, Paul, recruitment officers, recruits, soldiers, Sperm Sample, tattoos