Tag: Kieran
by Ben Daniels (Admin) on Oct.21, 2013, under BreederFuckers
Kieran is out of luck – he's been captured by the pervy men who want to train him and use him as their personal toy. The pervy men are strong masters and they're always on the lookout for hot bottoms which they use to fulfill their selfish sexual desires.
The Master takes him into a basement and ties Kieran up so he can't move. The poor bottom cries and moans hoping he'll awaken some glimmer of sympathy in the pervy Master, but all his efforts were to no avail. The master knows that this bottom's ass actually years to be filled with his big dick and he won't let him go away before the task is finished.
The cruel Master fiercely flogs the lowly sub in order to punish him for disobedience. The sub's ass is positioned in such a way so as to be available for further treatment. The Master fingers the sub's ass using several fingers, he really stretches that hole quite a bit. The sub's ass must be prepared for the Master's big fuck stick that is soon to follow.
But first, the Master shoves a big dildo that is attached on a stick deep inside the poor bottom's ass. The bottom guy is crying and moaning but the big artificial dick continues to penetrate his ass. This sub is obviously a hard nut to crack, so the Master inserts a big weighted buttplug up his arse to remind him of his position.
The weight of the buttplug is tied to the bottom's big nut sack. Kieran was not cautious and let the buttplug slide out of his ass. The punishment was instantaneous – his testicles were heavily weighted down by the weight of the buttplug. Kieran has learned his lesson and further lessons will help him get used to his submissive position towards his Masters.
Preview video:


Check out the latest videos with arrogant straight guys being turned into obedient cocksuckers at Breeder Fuckers!
If you prefer your porn to be on the kinkier side, you should definitely check out Breeder Fuckers (formerly known as Straight Hell). Breeder Fuckers is a premium fetish site devoted to hot straight guys being tormented, humiliated and treated without mercy by big, mean & aggressive studs!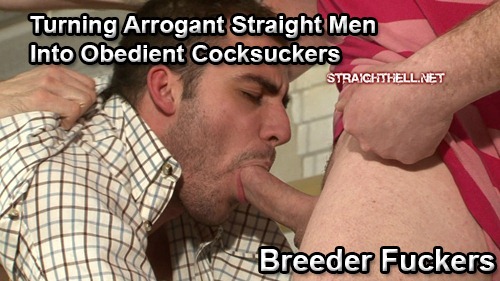 Leave a Comment
:big dildos, buttplug, Cruel Masters, domination, Fingering Ass, flogging, humiliation, Kieran, punishment
Click For More...
by Ben Daniels (Admin) on Jun.14, 2013, under CMNM
Nobody likes customs checks when you are entering another country. It can get really tough and scary sometimes. The UK Border Squad are totally aware of the terrible power they can wield and they often misuse it.
Kieran is a hot straight dude with a shaved head and his masculine looks triggered the curiosity of the police officers. Kieran is very tired and doesn't like when cops are messing around with his luggage. Unfortunately for him they discover something that he should not be carrying in his luggage and he knows they can now blackmail him as they wish. They literally have him by the balls.
He didn't expect that these police officers would make sexual advances towards him, however. He thought maybe they'd ask for some money, but instead the pervy cops are more interested in his manly fit body and his cock. The police officers are wearing their usual uniforms and look tough and unforgiving. They order Kieran to strip down and stroke his dick. Kieran knows that he must comply or risk long prison sentence. This manly straight lad is forced to stand motionless and allow the pervy cops to do whatever they please with his balls and cock. It seems that a sperm sample is the first thing on the menu, but won't be the last. 
Preview video:


Check out these pervy men's whole videos in HD at CMNM now!
Clothed Male / Naked Male (CMNM) is a superhot porn site where Nervous straight guys get stripped naked, groped and violated by fully clothed men.
There's nothing better than stripping straight lads completely nude, putting their bodies on display, and teaching them exactly how to submit! When they are in such a submissive position, one would be crazy not to use the opportunity and jerk them off!

Leave a Comment
:customs officers, domination, forced handjob, inspected, Kieran, police officer, shaved head, uniformed men
Click For More...