This video wasn't really planned, it kind of happened by chance. Vander was here to do his TagTeam video with Aries and Solomon, which he did. He was also scheduled to make a serviced video with another new guy. Alas, the new guy didn't show up.
Vander doesn't live nearby and his flights are not cheap, so I figured it would be best to pair him with someone of the similar build and similar cock size. And with someone who can both fuck and be fucked. But for this time round I wanted to see Vander getting fucked because I know how great a piggy bottom he can be.
The obvious choice was Glenn, a hunky straight dude who can fuck really well.
The video starts off with a massage that Vander is giving to Glenn. Vander focuses on Glenn's massive male feet and this is a chance for all you feet lovers to enjoy in this feet fest.
Vander is still in his sweatsuit, his huge cock can easily be noticed underneath the cottony surface. Glenn can't wait for much longer and takes it out, and puts it into his mouth. Vander's cock is huge and it was fun to watch as Glenn tries to swallow it as much as he can.
Glenn also gets serviced by Vander, they do some 69 and it's all very hot. Two big dicks getting serviced and a sword match between them is enough to get my own willy hard in no time.
Vander also rims Glenn's ass, perhaps as a token of gratitude that Glenn is going to pound him like a man only can, and that this can serve as a promise that Vander will return the favor as soon as he can.
The most startling scene here is when Vander just sits on Glenn's face and Glenn proceeds to rim him. You have to keep in mind that Glenn is truly straight and this was a big leap forward for him.
Vander eventually sits on Glenn's hard dick and starts to ride it, his own cock rock-hard and spinning around. He fucks himself with Glenn's cock up and down, up and down. Next, they sit face to face on the table and massage each other's cock, stroking it and kissing like real lovers.
Vander then assumes a lying position and lets Glenn penetrate his ass from behind really deep. There are some great shots that I made while Glenn's cock slides really deep inside Vander's man hole.
Then they move to the end of table and Glenn continues to fuck Vander until Vander cums. Vander just spills his seed on the floor while being violently assaulted from behind.
Glenn's cock twitched many times while he cums directly inside Vander's ass. It makes these very visible twitches when you know that the sperm is being squirted inside the bottom's ass, and in case of Glenn you can easily notice the moment. First he came a few drops outside Vander's ass, but then quickly shoved it in again inside to unload there and breed Vander.
Preview video: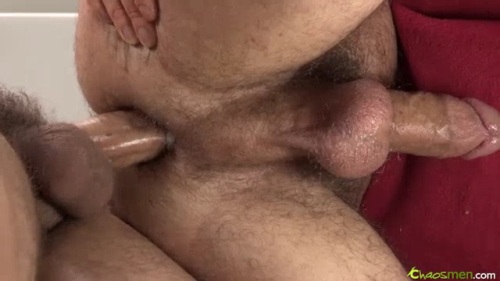 Click here to watch their entire video in HD quality at Chaosmen!
Chaosmen is a great porn site that features hot straight and bi men getting serviced or fucking their mates bareback for some cash. This site is exceptional and very unique because almost every single fucking is bareback and ends with gorgeous internal cumshot or creampie.