Tag: lifeguard
by Ben Daniels (Admin) on May.15, 2014, under All American Heroes
Big, beefy soldier Logan takes it upon himself to train young lifeguard Tommy. His training is tough and mercilessly strict, in-depth and exhausting. The young lifeguard doesn't know what hit him, especially when Logan starts insisting that he do all the pushups and other exercises properly. Logan joins him and demonstrates how each exercise should be done correctly. Soon enough, Logan's military blouse and t-shirt are gone and Tommy now has the opportunity to see this beefy soldier's hard chest muscles, massive biceps and perfect six pack!
Of course, Tommy is awed at his instructor's perfect physique and state of fitness and showers him with compliments, but Logan has no time to lose so he kicks back on the couch, unzips his camouflage pants and lets the young lifeguard take care of his hard military cock. Tommy is almost in a trance-like state of mind while sucking Logan's firm manhood. Logan just kicks back and starts enjoying being serviced.
Tommy still has all his clothes on (he probably forgot to take them off because that dick in front of his face was so hypnotizing) and he keeps on slobbering all over the soldier's cock greedily, ravenously swallowing it all the way to the balls. Eventually, Tommy loses his clothes and Logan starts jacking off his own dick slowly while giving a sign to his younger slim buddy what to do next.
Logan makes his new apprentice stand on all fours so he can rim his ass and prepare it for the inevitable, imminent penetration. Logan spits on the tight boyhole while holding his stiff cock in his hand. It's rather obvious at this moment that this boy's hole is soon going to sustain some pretty serious damage. Now Logan assumes the standing position and shoves his rod all the way into the boy's pale ass. With a mean face of a determined, aggressive fucker Logan starts to pound Tommy's poor tight ass. Tommy braces himself for the incoming assaults on his hole and buries his face into his hands, groaning, grunting and moaning all the while.
Then Tommy starts riding Logan's fuck stick cowboy style – he jumps up and down on that stiff sizeable pole like a madman. Then he stands up and bends over so that Logan can bury his weapon even deeper . Logan is certainly in the "beast mode" and fucks his new apprentice in a forceful, aggressive way, without letting the poor bottom take a break even for a moment. Logan pushes Tommy to the ground and puts one of his combat boots on the boy's chest. Yelling and grunting loudly, Logan starts shooting his load which splatters all over the young lifeguard's face.  Not long after this, Tommy also releases his load which lands on his belly.
Preview video:
Click here to watch their entire videos in HD quality at All American Heroes!
All American Heroes is a very cool military site with all kinds of uniformed men (firefighters, military men, lifeguards etc.). It's an unmatched and unavoidable destination for all lovers of hunky, hot uniformed guys who like to blow their loads and fool around with their buddies.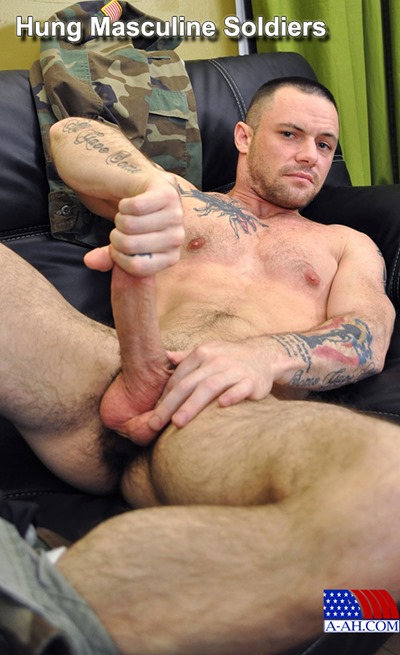 2 Comments
:aggressive fucking, big dick, combat boots, cumshots, lifeguard, military uniform, muscled, navy men, sperm
Click For More...
by Ben Daniels (Admin) on May.21, 2013, under Men of Montreal
Felix Brazeau is a hot bisexual dude who works as a lifeguard. He works out regularly (5 times a day) and it shows on his physique. His cock is pretty impressive, too and measures no less than 8 inches (20 cm)!
On the other hand we have Lorenzo Star who is a passionate gay dude. His whole body commands respect and his cock is huge. He could have any guy or girl out there with that kind of looks. His cock is not only long but also pretty thick.
Lorenzo is a rather experienced stud as far as sex goes, but Felix is a newbie and wants to try his luck in porn. On the surface, Felix has an aura of confidence and sureness about himself, but deep down he's a bit nervous, like any beginner in porn. He is eager to prove himself as a good top and stud proficient in the art of lovemaking.
In the very beginning we see Marko Lebeau and Felix in a mini interview.  Then we see Lorenzo and Felix in the bathroom, taking a shower and kissing passionately. Felix first rims Lorenzo's ass to relax it for the upcoming penetration. After this foreplay, Felix shows what he's made of by attacking Lorenzo's ass with his big, stiff fuck stick.
The fucking was surprisingly loud, both studs were very vocal and there was a lot of grunting and moaning. The guys proceed to the bedroom where they will have more space and freedom to fuck as they want. The first position is the classic 69 which they got nearly to the perfection. Next, Felix puts Lorenzo on the edge of the bed so he can fuck him hard. The fucking itself was intense and dirty, so much so in fact that Felix managed to fuck the cum out of Lorenzo. Lorenzo shot his jizz far away, and his cum splattered on his chest.
Preview video:


Click here to watch Hugo's entire video in HD quality at Men of Montreal!
Marko Lebeau is a gay porn star from Montreal. He noticed that there is a big demand for men from Montreal in the USA and other countries, so he decided to make this new reality-based porn site which primarily features new male models and local male strippers in and around Montréal. Many new and exciting hot men can be found here, so if you're bored with other sites you can give this one a try!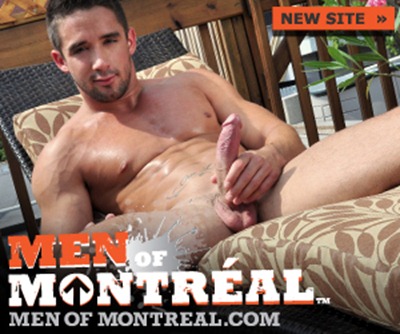 Leave a Comment
:69, beard, big dick, blowjob, canadian, facial hair, Felix Brazeau, fucking, hairy, handsome, lifeguard, Lorenzo Star, muscled, shower scene
Click For More...