by Ben Daniels (Admin) on Jan.27, 2016, under HardBritLads
Hot, masculine lad from London, our old friend Matt Brooks is about to get fully serviced by handsome scally lad Jordan B. It's quite obvious that the guys have some special chemistry between each other going on – you can notice their cocks getting hard even while they're still in their shorts. At the outset the guys start kissing each other. Matt is a pretty intense and rough lover and makes Jordan suck his nipples without further ado. Jordan reaches for Matt's huge stiff cock and it springs out from Matt's underwear.
Jordan swallows it right away and starts servicing Matt. Matt can't help but being rough and begins to push it harder into Jordan's throat, face-fucking him. Jordan gladly obeys and, as an obedient cocksucking bitch, he takes great pleasure in slobbering all over that delicious thick 8-inch long shaft and big cockhead. Matt then gets on his knees because he wants to return the favor and show Jordan that he can be of service, too! Jordan's 8 inches easily disappear in Matt's throat. These guys are clearly very much into each other and enjoy servicing each other's hard cocks a lot!
The guys move on the sofa and continue to exchange blowjobs. Matt is in the mood to fuck some ass, and he tells Jordan to get on all fours so he can prep his ass with his tongue. Matt's cock is extremely hard and throbbing, and he uses it to tease Jordan's eager aching hole a little, just before the main part of the action is about to begin. Matt finally inserts his cock into Jordan's ass and goes inside balls deep. Then he starts pounding it at a steady but resolute pace. Matt's thrusting is long and forceful. Little by little, Matt increases the speed and within minutes he's fucking Jordan quite hard indeed! There's palpable sense of horniness and genuine chemistry between the lads. You can tell by the inarticulate words and sounds they're giving off that they're enjoying quite a bit.
Jordan lies on his back, his cock is almost on the verge of cumming, and Matt fucks him from below. Matt slows down a bit when he senses that Jordan is about to cum. Jordan shoots his load which splatters all over his six pack abs. Matt pulls out and moves a bit to sit over Jordan. Matt continues to stroke his dick and within seconds he shoots his really big load all over Jordan's face and chest. Jordan is hungry for Matt's jizz and obediently scoops it all up from Matt's still throbbing cock and eats it.
Preview video:
Click here to watch their entire video in perfect HD quality at Hard Brit Lads!
Hard Brit Lads is a relatively new porn site that features only the most masculine and well-built straight and bisexual guys showing off and fucking the shit out of each other. Videos are well-made and shot in HD. Don't miss out lots of amazing, manly men!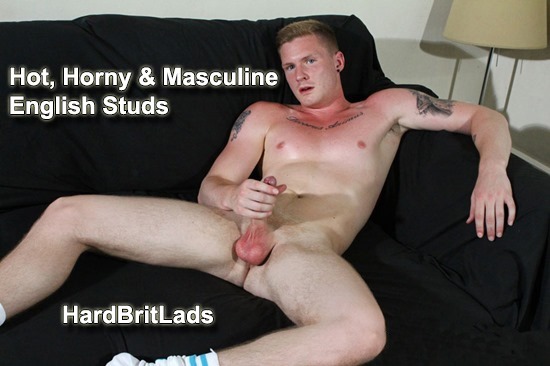 :aggressive fucking, big dick, blowjob, cum eating, english guys, facial cumshot, fuck the cum out, Jordan B, manly men, Matt Brooks, muscled, rimming, scally lad, thick cock, trackies, uncut cock, wife beater