Tag: Mick
by Ben Daniels (Admin) on Apr.30, 2012, under TheCastingRoom
Meet Mick, a young horny straight guy! Mick has always wanted to become a porn star. It's just one of those things that most straight guys want anyway. It's not just being able to fuck as many girls as he wants, but also to be in front of the camera.
He has been making his own amateur videos and pictures since he bought a mobile phone. Several decades ago it was quite unusual to film yourself naked or jerking off and then show that to people, but nowadays young guys just love it. It's so convenient when you have the entire studio in your pocket.
And then you can show all those recordings to your mates or even prospective girlfriends and see how they react!
By the way, Mick is hopelessly straight and he says he'd sooner fuck a tranny than a man, so don't get your hopes too high about seeing him with a man any time soon!
Today I promised Mick that I'd make a very professional porn shoot with him so that he could show it to anyone he wants.
Short preview video:


Click here to download his entire video in perfect HD quality at First Auditions!
First Auditions is a great and original porn site that features young, cocky straight men who want to earn a lot of money by becoming porn stars. They think they'll be accepted right away and bang lots of chicks, but what they don't know is that our casting director is very strict and wants to see them naked and how they jerk off during the audition. Lots of drop-dead sexy men here!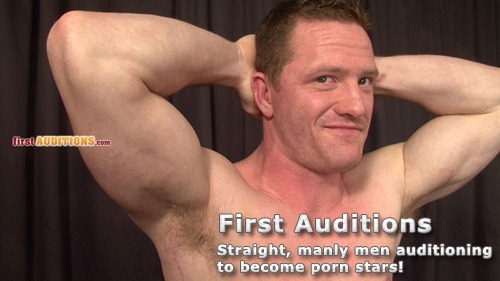 Leave a Comment
:ass shots, cumshot, handsome, inspected, jerking off, masculine, Mick, porn star, straight guys
Click For More...
by Ben Daniels (Admin) on Jan.03, 2011, under BaitBuddies
While wandering through the parks with his video camera, our resident hunter for straight dudes, Robbins, stumbles across a hot young guy who is playing a guitar, trying to make a few bucks from the passers-by. The kid is not doing great, cause he's only made $3.25 which are sitting in his guitar case. After a bit of a discussion, Caruso realizes that this young dude isn't really the brightest spotlight on the stage and he knows he's found his next Bait Buddies "star".
Next we see this new rock star wannabe, Mick, in the studio where we brought him to do a "free" photo shoot, which should help him with his career and rise to stardom (hehe). But then we tell him that all rock stars have to pose first without their shirt and then nude as well. Mick is truly cute and sweet, and very naïve. This 20 year old kid will believe any ridiculous story we've got in store for him. And oh, by the way, he's got a really impressive, thick. long hard dick!
Anyway, meanwhile our Bait guy, Connor, who was introduced as a model, has been sitting watching the action. Connor is a tall, beefy, built blonde with a really big cock. The kind of hottie that nobody's throwing out of their bed anytime soon. Quick enough, Robbins is propositioning Mick to get into some sex with Connor, to which he replies "No way. I'm not gay" several times over.
Robbins tells Connor that at least he should start sucking Mick's hard delicious dick and see how that goes. As it turns out, it goes really well and one thing leads to another… and soon we have these two hot guys fucking the shit out of each other.
Short preview video:


Leave a Comment
:Connor, cumshots, fucking, Guitar player, Mick, rock star, straight go gay, tattoos
Click For More...