C.J. arrives in his fatigues and chills with me for a while. When I begin playing a porno for him C.J. lets me unbuckle his pants. First the boots, then the pants come off, then he begins to stroke his 8+ inches. When I touch his cock and he takes his hands away I figure it's time to deploy ­my mouth to his cock! After some serious sucking and stroking, C.J.'s 'weapon' discharges all over my face and down my throat. After watching him get back into his uniform, I'm pretty sure this recruit will again be pitchin' his tent in my yard!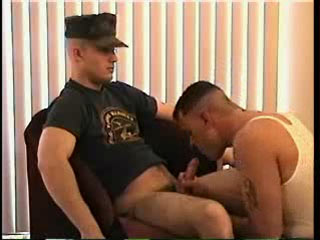 STR8BOYZSEDUCED is a great amateur site that features real straight guys taken from the streets!
For a small fee they agree to have their cock professionally sucked by Vinnie Russo, a hot stud in his own right!