Devin Adams is a quick-tempered sportsman, but he's a damn good player, probably one of the best in his school. His main problem is a lack of discipline and anger issues. In fact last month he was kicked out of a different game and now his coach Matt Cole is furious because he can't allow to lose his best player once more.
Matt starts to shout at Devin and threatens him that he'd bench him for the entire season if he doesn't put his anger in check. But Devin is also furious and he's not listening to his coach. He usually gets spontaneous erections when he's angry or excited, even just from playing game.
Eventually Matt doesn't want to put up with Devin's arrogance and pushes Devin into the lockers. Matt is now yelling at Devin and blackmails him that if he wants to be on this team he's gonna have to prove he is good enough.
Devin has a little secret though. He has been attracted to his coach for quite some time. He likes girls but there is something about this coach and his conspicuously masculine energy that just drives him crazy whenever they are in the same room. Devin is convinced that if he offers his ass to his coach it would solve all their problems and the two men will have to sign the truce.
Short preview video: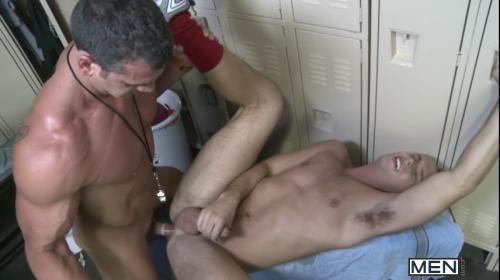 Click here to watch their entire video in perfect HD quality at Big Dicks At School!
What happens when a hot teacher meets a hot student who is misbehaved? Or when the student can't control his urges towards that super hot teacher? Find out at Big Dicks At School!
Big Dicks At School is a new site from the Men.Com network of sites. If you join any of the 4 sites in the Men.Com network you automatically get access to all 4 sites!