Tag: payback
by Ben Daniels (Admin) on May.25, 2015, under NextDoorBuddies
Brenner Bolton works as a masseur and today it defo doesn't look like his lucky day: not only did his car broke down, he also realizes he has to call a taxi if he wants to be at his work on time. He immediately notices that the taxi driver is none other than handsome ripped stud Mark Long! As luck would have it, he realizes that he's short on cash and his credit card gets constantly declined, so how is he going to pay? Problems, problems all the time…
Mark Long is furious and doesn't even want to listen to Brenner's stories. He pushes the breaks and stops the car right there in the middle of nowhere. Mark doesn't want to be a total asshole, though, so he proposes a little comprimise – if Brenner promises to take care of his cock, these temporary money problems would be forgotten. Brenner seems like he's having some second thoughts about this plan, but since there's really no other option, he approaches Mark's raging hardon and gets down to work!
Now, although Brenner is pretty skillful with his hand, Mark thinks it would be a real shame not to examine his mouth, throat and ass as well. Soon enough, Brenner's mouth is chock full of Mark's huge, thick dick.
The blowjob took care of Brenner's debt to Mark himself, but now it's time to make up for the debt due to the fuel costs. Namely, in order to pay for gas, Brenner will have to give his ass to Mark now, so he can use it the any way he deems fit. The two men pull over a nice lonely place in nature and as soon as Brenner positions himself, Mark shoves his dick into his ass. Mark had no mercy for that non-paying customer's ass and fucked it pretty good and hard in several positions. Eventually, Brenner rides Mark's dick until he shoots his load, and then Mark pulls out and splatters his jizz all over Brenner's face. In any case, that was a great ride!
Preview video:
Click here to download their entire video in perfect HD quality from Next Door Buddies.
Next Door Buddies is a porn site that features the typical "guy next door" types of men having some hot man on man sex with each other. These guys are usually either really straight or straight looking, although there are of course hot gay guys as well. The stories are a bit cliché but the production quality is pretty high and the men are usually really goodlooking.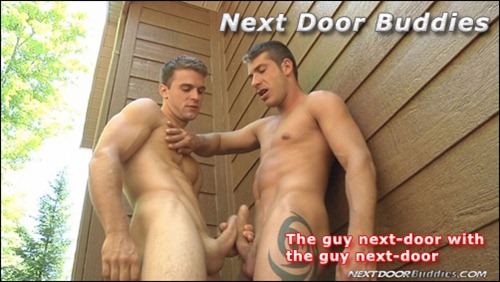 2 Comments
:big dick, blowjob, Brenner Bolton, fucking, handsome, Mark Long, muscled, nature, Outdoors, payback, tattoos, thick cock
Click For More...
by Ben Daniels (Admin) on Feb.02, 2012, under CMNM
Jason was taking a shower after a nasty dirty game, when all of a sudden the referee declares that Jason is guilty of foul play on the rugby pitch because his finger somehow ended up in his opponents asshole while they were chasing and fighting over the ball.
There is an obscure rugby rule that the payback for such a nasty action can be taken by the offended player and give back the favor. Jason is forced to bend over and take the opponent's thick finger up his hairy masculine asshole or he runs the risk of being thrown out of the league.
Short preview video:
Find and watch horny Clothed Male/Naked Male videos in HD at CMNM now!

Clothed Male / Naked Male (CMNM) is a superhot porn site where Nervous straight guys get stripped naked, groped and violated by fully clothed men.
There's nothing better than stripping straight lads completely nude, putting their bodies on display, and teaching them exactly how to submit! When they are in such a submissive position, one would be crazy not to use the opportunity and jerk them off!

Leave a Comment
:Fingering Ass, muscled, naked straight men, payback, rugby player, shower scene
Click For More...