The original director and creator of Activeduty has returned to his position and one of the first things that he wanted to do was to go through the rather large archive of hottest shoots and make some fantastic compilations, grouped into particular themes, or classified according to the houses where the videos were shot. For this occasion, he chose to make a compilation with the "Pool Theme", which was one of his favorites of all time. Namely, one of the houses, called La Jolla in California, played a significant role because some of the best and most memorable Activeduty videos were shot there.
These "Houses with a Pool" apparently played a significant role as the backdrop of many classic scenes. As a matter of fact, except for the first scene, all the other scenes were shot in the backyard of La Jolla house. The very first scene takes us WAY back to 2004, and features only several handpicked soldiers, which were crème de la crème of the military studs of the time. The movie itself was called "Band of Lovers", and it's modeled against the mainstream movie "Band of Brothers", from the same period. Director Dink often jokes about it being "the deleted scenes" from the mainstream movie. It explores all the possibilities that might have happened with the soldiers depicted in the mainstream movie had we had the opportunity to take a peek into their private matters.
Although on the surface it was just a porno movie, its main value is that it explores the camaraderie and brotherhood that would naturally form between these guys as if they were somewhere on the battlefield. It was definitely an honest private, peek into the soldiers' barracks. The guys that are featured here are all real soldiers: grunts and paratroopers during the day, and amateur gay porn stars at night. What could possibly be better?
Here are the guys who particiapted in making of these movies: Cameron, Cole, Cowboy, Kody, Luke, Marcus and Sweedish; Cash, DJ, Kasey and Nash; DJ, Fox, and Jack; Dorian and Elijah; Brian and Payne; Diego and Spencer; Dane and Jack; Chaz and Dorian; Christian, DJ and Dorian; Colt and Thomas.
Preview video: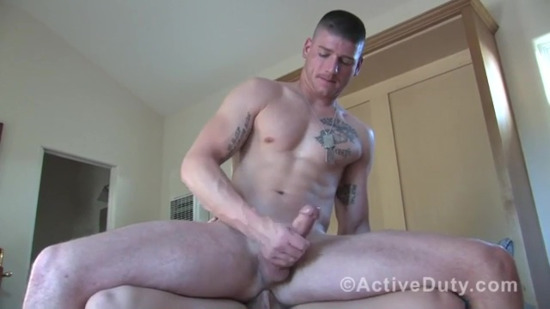 Click here to watch or download their entire video in HD quality at Active Duty!
Active Duty is a great porn site that specializes in younger military men and uniformed studs in general. These men are usually real amateurs and you will see them only here. Ripped, muscled studs in the army and their insatiable sex drive!
Active Duty is one of the oldest gay porn sites – but it has been recently updated and overhauled and now it looks brand new! Also all the videos are from now on in 2000 bit HD quality – so you can watch them even on your big TV screen!