Today we are going to check out five hot straight guys from England: Cameron Donald, Harry Lewis, Cameron Thomas, Sunny Matthews, and Angus Miller.
Ripped, well-built stud Cameron Donald is finally back to play with another Young handsome guy called Harry Lewis. Cameron comes across as a confident and really well built guy with lots of muscles. However Harry's body is more defined and more lean. Cameron  weighs almost 20 kg more than Harry, but they both look quite athletic and ripped.
The guys had a lot of fun while undressing each other, and soon enough we get to see them sporting their big uncut cocks! Of course there's a cock fight between those two soft uncut dicks, and then they proceed to wank each other until they are both rock hard. There is some more sword fight, now with their cocks fully erect.
Next up, Harry sits on top of Cameron, they're both touching one another, and their big erect dicks are now being wanked together with one hand.
And then there is suddenly a contest in who is going to come first. Both guys start stroking their dicks fast, and it turns out that Cameron was the first one to shoot his load, which was quite copious. He's followed by Harry who shoots quite a lot of jizz everywhere, as well! Then they both head straight to the shower and assist one another in a thorough soapy rub down!
*****
Cameron Thomas and Sunny Matthews are real life best friends. They started already to experiment with each other and today they are are back in Englishlads Studio to further broaden their horizons. This time round it's going to be something quite outside their comfort zone because they are going to stroke each other's uncut dicks for the first time ever!
So, the guys start out by sitting side by side and they keep teasing us with their Geordian tans.
Soon enough they get rid of their boxers and then they do a mini workout, first while fully clothed and then once again while naked. When they finally get rid of their clothes completely, they start experimenting with rubbing their soft cocks together. It doesn't take too long before their cocks grow big and hard. Director Nick quickly offers his helping hand for their hard erect cocks. The camera manages to catch their stiff dicks from some really great close-ups, and we even get to see a little bit of their sword fights.
Sunny was quicker and managed to shoot his load the first, and then Cameron follows suit with his explosive cumshot. Cameron squirts a huge road all over himself. And of course both boys head straight to the shower to wash off all that sticky mess ftom their bodies.
*****
Today was Angus Miller's first appearance on Englishlads. He did a photo shoot for their sister site Fityoungmen previously, and now this is his debut on Englishlads. Angus is a hot athletic straight lad in his early twenties, and he's quite serious about training boxing and playing football. Both sports keep his body in great shape, and it shows. His legs are hairy, long and muscular, and his arms are well-defined and strong. He's got a pert bum and in general his body looks great.
Angus was not shy to show off his hot lean body and to flex his muscles in ftont of the camera. He had quite a lot of fun while teasing us with his uncut dick and making it grow to the full erection. He then kept bending over, assuming the doggy style to give us a good view of his hot hairy hole! Then he gets on the floor and turns on his back. He then starts stroking his dick quite intensely, and soon enough he shoots his load all over his six pack abs! Wow, it looked so easy! Angus then goes into the shower to wash off all that sticky mess from his abs. Fantastic jerk off session, Angus!
Cameron Donald & Harry Lewis
Cameron Thomas & Sunny Mathews
Angus Miller
Preview videos: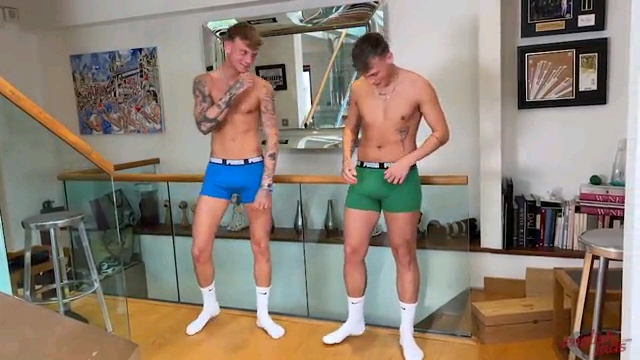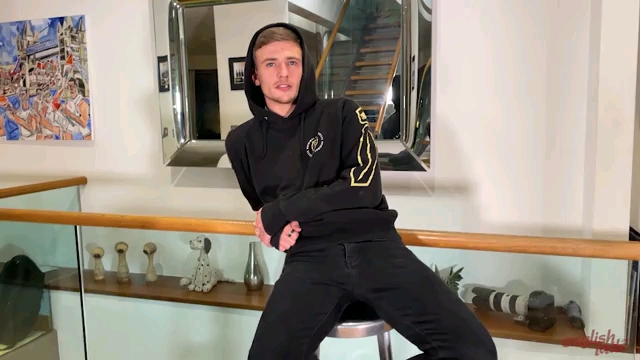 Click here to download their entire videos in perfect HD quality at EnglishLads!
English Lads is a fantastic site with loads of very manly, straight lads from England who love to show off and jerk off for the camera.  The guys that appear here are usually not found on any other site, so the content is quite exclusive. All movies are in HD quality.