by Ben Daniels (Admin) on Sep.24, 2012, under HardBritLads
We've already seen Guy Rogers previously at some other porn sites, but this is probably his best edition so far. Guy is a very handsome and masculine lad. He trains judo, does a lot of cycling work, runs and is pretty big on the whole fitness thing. His whole body is very well-built and proportinal, I'd say it's pretty much perfect. He is pretty hairy all over, especially on his chest and legs. And oh, those legs are just perfect. It's not that common nowadays to meet a man with such nice, hairy and muscled legs. It's as if guys forget their legs and put all their workout efforts into arms and chest, but that's a mistake. Guys, muscled legs are sexy, period. Give your legs a proper workout as well. ;)
Guy doesn't want to define his sexual orientation precisely. I agree – it's so silly to push yourself into preconceived labels and classifications, when almost all men are born bisexual. Guy prefers women but is open to experimentation with guys as well. Gotta love that.
Guy slowly takes off his shirt and shorts, and stays in his jockstrap for a while, to tease us. Gosh that hairy muscled and toned body is so sexy it hurts. And Guy's short beard gives him a more manly, a bit more mature looks.
Guy puts some oil in his hands and rubs it into his whole body, plays with his nips and rubs it some more into his chest. Then he rubs the oil into his hairy legs… if you're into men's hairy legs then this video was made for you!
He takes off his jockstrap and soon enough his nice big cock becomes erect and hard.  He moves to the sofa and begins to rub his hole a bit. He spreads his ass cheeks apart so that we can get a better look at his asshole.
Guy continues to jerk off slowly and allows the cameraman to take fantastic shots of his body and erect dick. Then Guy takes a dildo and shoves it up his ass, and begins to fuck himself with it. He keeps on jerking off and at the same time pushes the dildo in and outside his ass.
That dildo was obviously a fantastic idea because it hit his man-G-spot. Guy's breathing becomes heavier and his cock is now pulsating. No doubt that he's close to cumming. His strong manly legs are tensing and flexing as he continues to stroke his cock. Then, all of a sudden, he shoots the jizz and it hits him on the hairy six pack abs.
Preview video:

Click here to watch his entire video in perfect HD quality at
Hard Brit Lads!
Hard Brit Lads is a relatively new porn site that features only the most masculine and well-built straight and bisexual guys showing off and fucking the shit out of each other. The videos are well-made and shot in HD. Don't miss out lots of amazing, manly men!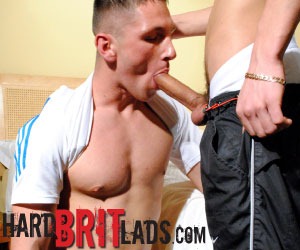 :beard, big cock, cumshot, dildo action, Guy Rogers, hairy chest, hairy legs, jerking off, judo, martial arts, masculine, perfect chest, straight guys, strong legs