My favorite "Italian Stallion" is back for some new sessions and this time I introduce Tony to "Mr. Bill". Remember Tony is 19 years old, 6′, 170 lbs., and when he's not in jail for bar brawling he's a laborer. In the first scene Tony is a vision in his "wife-beater" and boxer briefs and after a little "stroke-n-blow" I decide to unzip my pants and take out my cock as I'm kneeling in front of him. Watch his expressions as he sees it for the first time and licks his lips! When I stand up Tony grabs my cock and stroked it then goes right down on it! While Tony's sucking my cock he says "Is that good? I never did this before…" He's completely into it now as I deep throat him and dive between his legs and in no time he's having his most intense orgasm ever! After the last spurt though you can tell he's over it and can't wait to leave. Will Tony deal with what happened and return for more? Duh!
Preview video: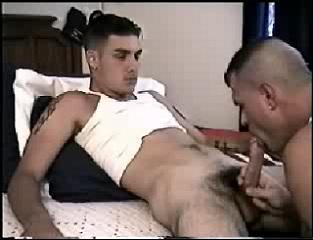 STR8BOYZSEDUCED is a great amateur site that features real straight guys taken from the streets!
For a small fee they agree to have their cock professionally sucked by Vinnie Russo, a hot stud in his own right!