by Ben Daniels (Admin) on Mar.18, 2014, under BreederFuckers
George was such a boastful and braggy confident young man when he first entered Breederfuckers premises. He claimed that he could do just about anything to earn some quick money in porn. Furthermore, he was constantly showing off by citing the number and names of the girls that he had fucked. In other words, he is a very confident ladies man.
However, things got a lot harder for him since he has come to Breederfuckers, and although he thought that this S&M session would be easy as pie, he learned the hard way that it was anything but!
George is immobilized and tied so he can't move much, and the cruel Masters are shamelessly groping his genitals. His t-shirt is soon ripped apart and below it he hides his beautiful hairy chest. The pervy masters grope his cock and George spouts obscenities and winces. Master Dave is relentless and manhandles him so that he finally manages to kiss him passionately.
Master Adrian continues to grope his cock and soon enough George grows a big pulsating hardon. The cruel Masters keep on teasing him and cracking jokes about his hard cock, while Master Dave uses the opportunity to lash his hairy butt cheeks so hard that they soon become glowing red!
Cruel Masters even lash George's torso until it's also completely red and very painful to touch.
Preview video:


Check out the newest videos with arrogant straight men being turned into obedient cocksuckers at Breeder Fuckers!
If you prefer your porn to be on the kinkier side, you should definitely check out Breeder Fuckers (formerly known as Straight Hell). Breeder Fuckers is a premium fetish site devoted to hot straight guys being tormented, humiliated and treated without mercy by big, mean & aggressive studs!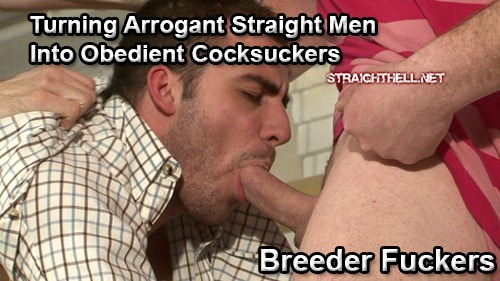 :BDSM, beard, George, groping cock, hairy chest, lashings, masculine, Master Adrian, Master Dave, Punished, tied up