Our straight buddy Ralph (who until now only used to receive blowjobs from our resident cockscukers) needed some financial assistance and we were happy to help him out, like we did with Nick last summer. We made the same deal, the repayment is made by sucking a few cocks!
It will be fun to see over the next few updates, Ralph's loan get repaid!
We decided that the first installment would be Aaron, the hot and hairy Straight Israeli Stud who loves his cock sucked more than anything else. He didn't care that he was getting sucked off as part of a loan repayment, he just wanted to get blowjob.
Aaron just used Ralph's hot, wet mouth like he would any cocksucker's. He looked at Ralph as his cocksucker, nothing more. Ralph delivered an amazing blowjob for a guy who doesn't really suck cock very much. Aaron enjoyed his tongue and deep throat as well as, Ralph's service session on his nipples. Just like any of our resident cocksuckers, Ralph was dedicated to his job and didn't finish till Aaron dumped his load and was completely satisfied.
Short preview video: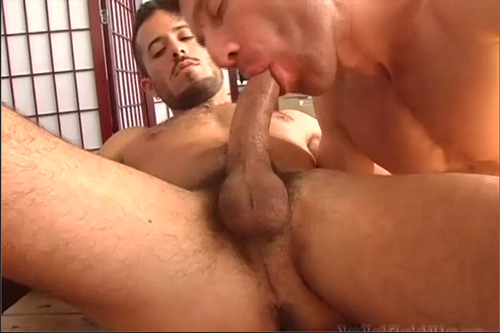 Click here to bust your nut while watching this whole movie PLUS hundreds of others in the biggest vault of blowjob movies with straight men hosted at Newyorkstraightmen!