by Ben Daniels (Admin) on Mar.27, 2019, under TheGuySite
Jason Steel is a very hot and masculine ex-marine who wanted to try his luck in porn and earn some quick easy cash. And man, we are so lucky that we have him here. This guy is all man, not just because of his impeccable muscular physique, but also his manners, and confident, uninhibited attitude. Now he lives and works as a real cowboy, but he still maintains the military discipline when it comes to working out.
Here we have two different videos of him, the first one which features Jason in his cowboy hat, and the other shows him running through the forest completely naked. In the first video we can see how he measures his beautiful and impressive 8-inch cock, and then jerks off. After that, he takes a shower while fooling around with the director.
In the second video Jason runs though the woods naked while his own wood is dangling and swinging in all directions! As you can clearly see, it quickly becomes fully hard and Jason has no other option but to stroke it until he cums – right then and there in the middle of the forest. Jason also demonstrates his boxing skills. The original title of this video is "Big Timber in the Woods", and we couldn't agree more – it's a perfectly fitting title!
Video 1
Video 2
Preview videos:
Click here to watch his entire videos in HD quality at The Guy Site!
The Guy Site is a great destination for all lovers of amateur, "next-door" type of guys. These guys are not "pretty-perfect", they look more like your next door neighbor, but just because of that they are more authentic and hence more realistic!
When you go and walk around your neighborhood you're more likely to  meet one of these hot "next-door" dudes than some perfect bodybuilder. That's not to say that there are no bodybuilders on The Guy Site, but even they are amateur types. That's why I really like The Guy Site. Certainly worth checking out.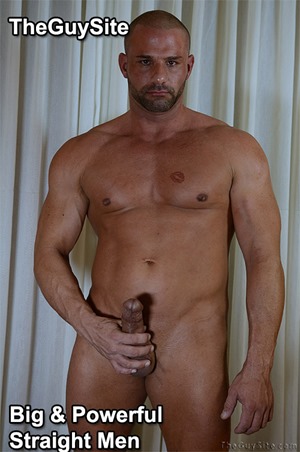 :8-inch cock, army cap, beard, beefy, Big Arms, cowboy hat, ex-marine, Ex-Military, Jason Steel, jerking off, muscled, naked in the woods, ripped, shower scene, smooth chest, straight men