Vander and Eli meet in a public restroom and while they're peeing, they notice that they both have huge cocks. Vander's cock is enormous, rock hard and points to the sky. Eli's dick is almost equally big and impressive.
They decide to suck each other off through the glory hole. What man can resist the temptation of being sucked off by a cock-hungry man-slut on the other side of the hole? Or who in his right mind would miss a chance to deepthroat a beautiful, erect dick such as Vander's or Eli's?
After they've gotten even hornier, Vander sits on Eli's big snake and rides it out like a champ that he is. They soon switch positions, and now Eli's riding and hopping on Vander's stone-like, veiny and throbbing manhood.
Eli's cock becomes soft so he pushes it through the gloryhole and lets a stream of piss. This stream hits Vander's chest and cock. Vander uses the urine to jerk off which really pushes his horniness to a whole new level. After Vander's additional sucking Eli is hard again.
Vander then sticks his ass onto Eli's hard dick. Vander rides Eli for some time, then they switch positions and now Eli's enjoying the power of Vander's monster cock inside his tight ass.
The two guys finally move to an open space and Vander fucks Eli over some garbage can. Vander is relentless now and he fucks Eli until he cums. Eli shoots his load into Vander's hand and then uses it as lube to continue to fuck Eli. Eventually Vander cums inside Eli's ass, and we have a most beautiful creampie with both Vander's and Eli's sperm inside Eli's ravaged butt.
This video at Chaosmen is certainly a keeper and it's got some very nasty and raw footage of perfect man-to-man sex.
Short preview video: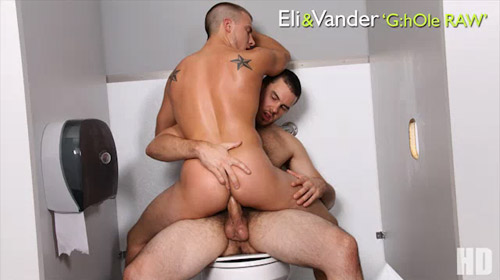 Click here to watch their video in perfect HD quality at Chaosmen!
Chaosmen is a great porn site that features hot straight and bi men getting serviced or fucking their mates bareback for some cash.